........................................................................................................................
DISPARI&DISPARI PROJECT -
........................................................................................................................


Jean-Auguste-Dominique INGRES
The Turkish Bath
1862
© Musée du Louvre
COMUNICATO STAMPA
Dispari&Dispari Project presenta dal 6 al 30 maggio 2006 una esposizione dell'artista spagnolo Dionis Escorsa frutto di una collaborazione con il museo Louvre di Parigi, il museo d'arte classica piu' prestigioso nel mondo. La mostra ''Trasloco'' mostrera' alcune delle opere piu' famose nella storia della pittura trasportandole direttamente dalla capitale francese all'interno di specifiche casse di sicurezza. Le operazioni di smontaggio, imballaggio e trasporto di queste opere d'arte si convertono in una operazione di sostituzione dei contenuti che ha a che fare un qualcosa con il trasloco. Quindi una relazione con le opere piu' immediata e vera che si contrappone alla normale visione storicistica e monotona che gli spettatori percepiscono alla vista delle opere. I lavoratori anonimi, incaricati di imballare e trasportare le opere andranno ad occupare per proprio diritto un contesto di privilegio culturale che queste cornici hanno la facolta' di assegnare.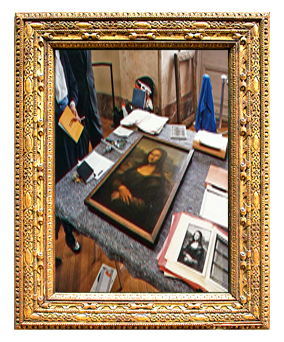 Leonardo da Vinci
Portrait of Lisa Gherardini, wife of Francesco del Giocondo
Between 1503 and 1506
© Musée du Louvre
COMUNICADO DE PRENSA
Dispari&Dispari Project presenta del 1 al 31 de mayo del 2006, una exposición de Dionís Escorsa fruto de su colaboración con el Musée du Louvre en París, probablemente el más prestigioso museo de artes clásicas del mundo. "Mudanzas" muestra algunas de las piezas más famosas de la historia de la pintura, transadándolas directamente desde la capital Francesa, entre grandes medidas de seguridad. El desmontaje, desenmarcado, embalaje y transporte de las piezas se convierte, mediante una operación de sustitución de contenido que también tiene algo de mudanza, en un nuevo relato mucho más inmediato y sincero, a despecho de lo que estas obras siempre nos habian estado contando de una manera historicista y monótona. Así, los trabajadores anónimos de montaje que se han estado encargando de empaquetarlas y transportarlas, pasan a ocupar por derecho própio los contextos de privilegio cultural que estos marcos tienen la facultad de otorgar.
TRASLOCO

CORNICE
1. Telaio di legno o di metallo, di varie forme e variamente lavorato che si usa per inquadrare dipinti, fotografie, specchi, ecc.
2. Tutto ciò che delimita un'immagine, un luogo o fa da sfondo o da contorno a un ambiente.
3. Mintelaiatura, liscia o ornata, che conclude a corona in alto un armadio o altro mobile a sviluppo verticale.
4. In architettura, la parte più alta che racchiude il complesso dell'architrave e del fregio.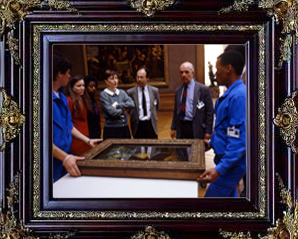 Pieter BRUEGEL the Elder
The Beggars
1568
© Musée du Louvre.
MARCO
(Del germ. *mark; cf. nórd. mark, a. al. ant. marka).
1. m. Pieza que rodea, ciñe o guarnece algunas cosas, y aquella en donde se encaja una puerta, ventana, pintura, etc.
2. m. Ambiente o paisaje que rodea algo.
3. m. Límites en que se encuadra un problema, cuestión, etapa histórica, etc. En el marco de la Constitución. En el marco de una teoría.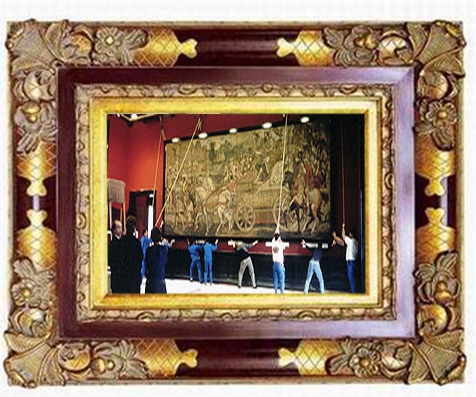 Francesco GUARDI
The Doge in the Bucentaur at San Nicolò di Lido on Ascension Day
c. 1775-80
© Musée du Louvre
The Louvre: A Rich Past, An Ambitious Future
The Musée du Louvre houses 35,000 works of art drawn from eight departments, displayed in over 60,000 square meters of exhibition space dedicated to the permanent collections.
"Open to all since 1793": From the outset, the Louvre has embodied the concept of a truly "universal" institution. Universal in the scope of its collections, it is also universal in its appeal to some 6 million visitors every year: a 21st-century museum rooted in 200 years of innovation.
The principle responsibility of the Louvre is to conserve, protect, restore, and develop France's national art treasures, from the early royal collections to the most recent acquisitions. In carrying out this task, the museum's scientific and academic staff displays steadfast commitment and universally recognized professionalism.
The priceless artworks housed in the Louvre are held for the benefit of present and future generations. Hence the vital importance of the museum's mission to make these works available to the greatest number of people possible, from France and all over the world. To do this, it is our job to ensure that every visitor enjoys the best facilities possible. But it is also essential to promote cultural access: to do as much as we can to help each visitor to approach, understand, and enjoy the works they have come to see. With this in mind, we are committed to extend the range of information available at the Louvre in languages other than French, to further develop the museum's wide range of educational resources and activities, and to make our buildings and collections more easily accessible—in every sense—to people with disabilities and to new audiences.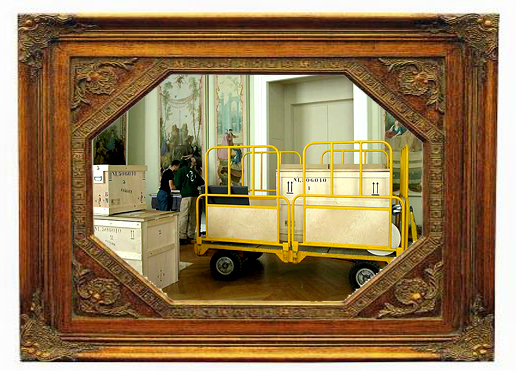 Domenikos Theotokopoulos, known as El Greco
Christ on the Cross Adored by Donors
Circa 1590
© Musée du Louvre




Ideazione:
Artista:
A cura di:
Sede:
Indirizzo:
Inaugurazione:
Periodo:
Orario:



Fax:
Tel:
Info:
Web:

TRASLOCO
Dispari&Dispari Project
Dionis Escorsa
Andrea Sassi
Location Industriale
Via V.Monti 25, Reggio Emilia . Italia
Sabato 6 Maggio 2006
dal 8 al 30 maggio 2006
da Mart - Ven
dalle 10,00 alle 12,00
dalle 16.00 alle 19.00
(sab su appuntamento)
+39.0522.557344
+39.335.6097304
info@dispariedispari.org
www.dispariedispari.org
www.dionisescorsa.net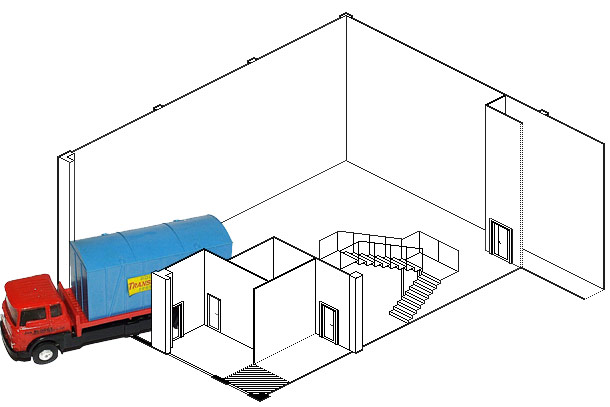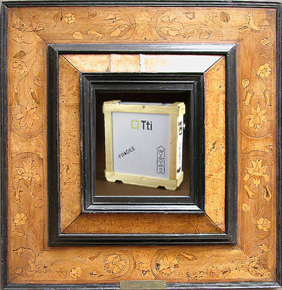 Johannes or Jan Vermeer
The Lacemaker
Painted quite late in the artist's career, c. 1669-70
© Musée du Louvre