The Projector Dog
El perro proyector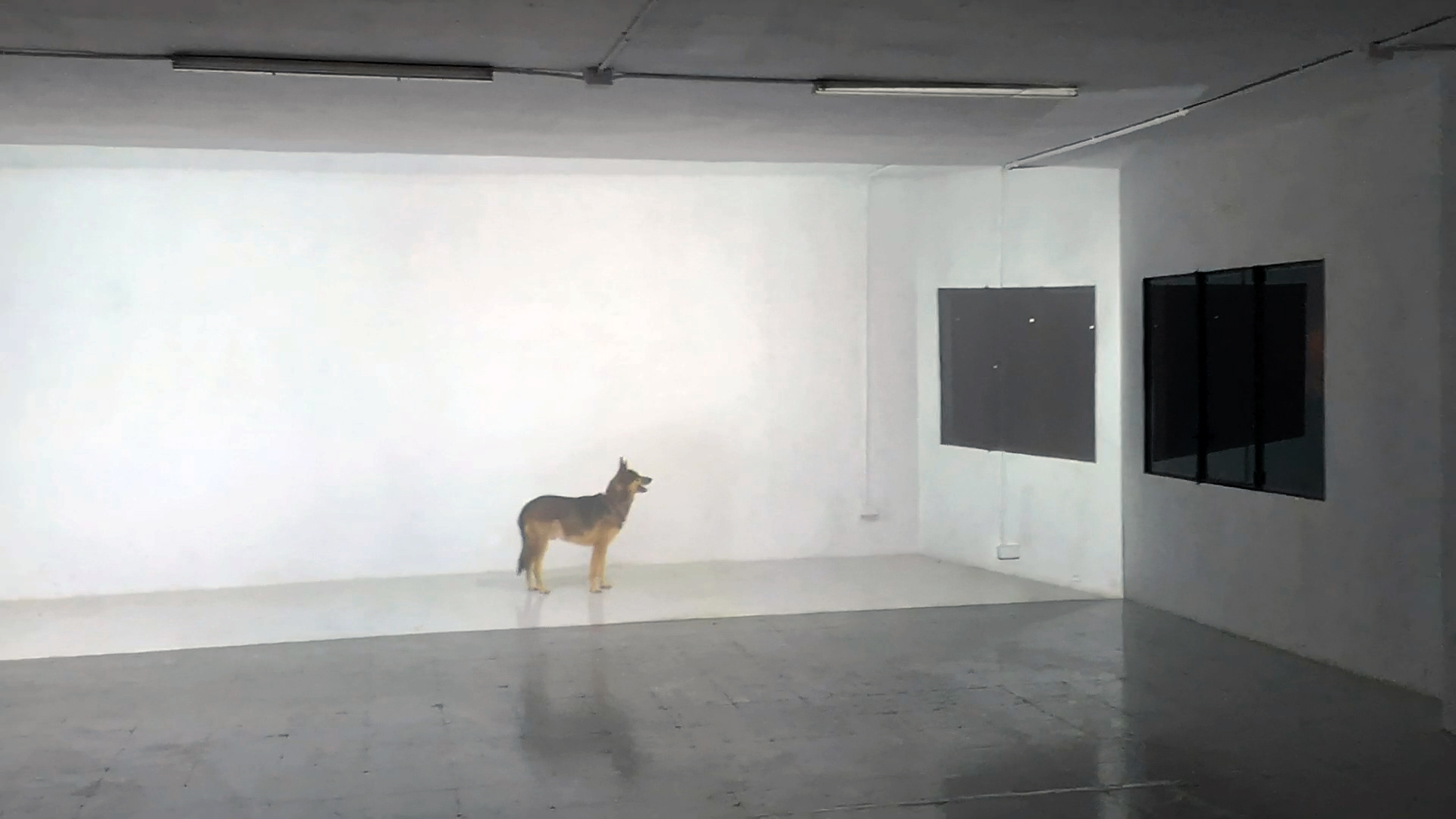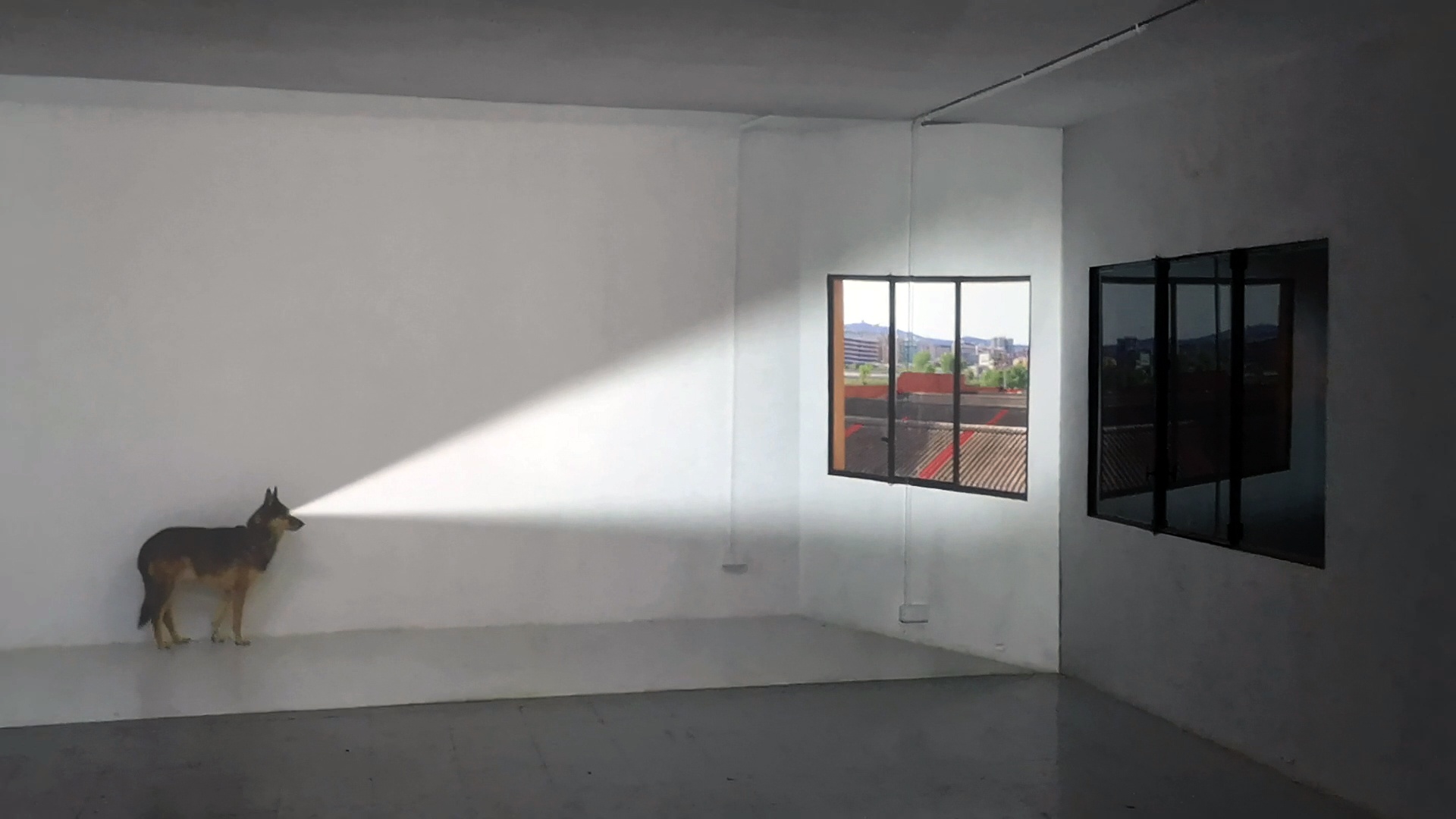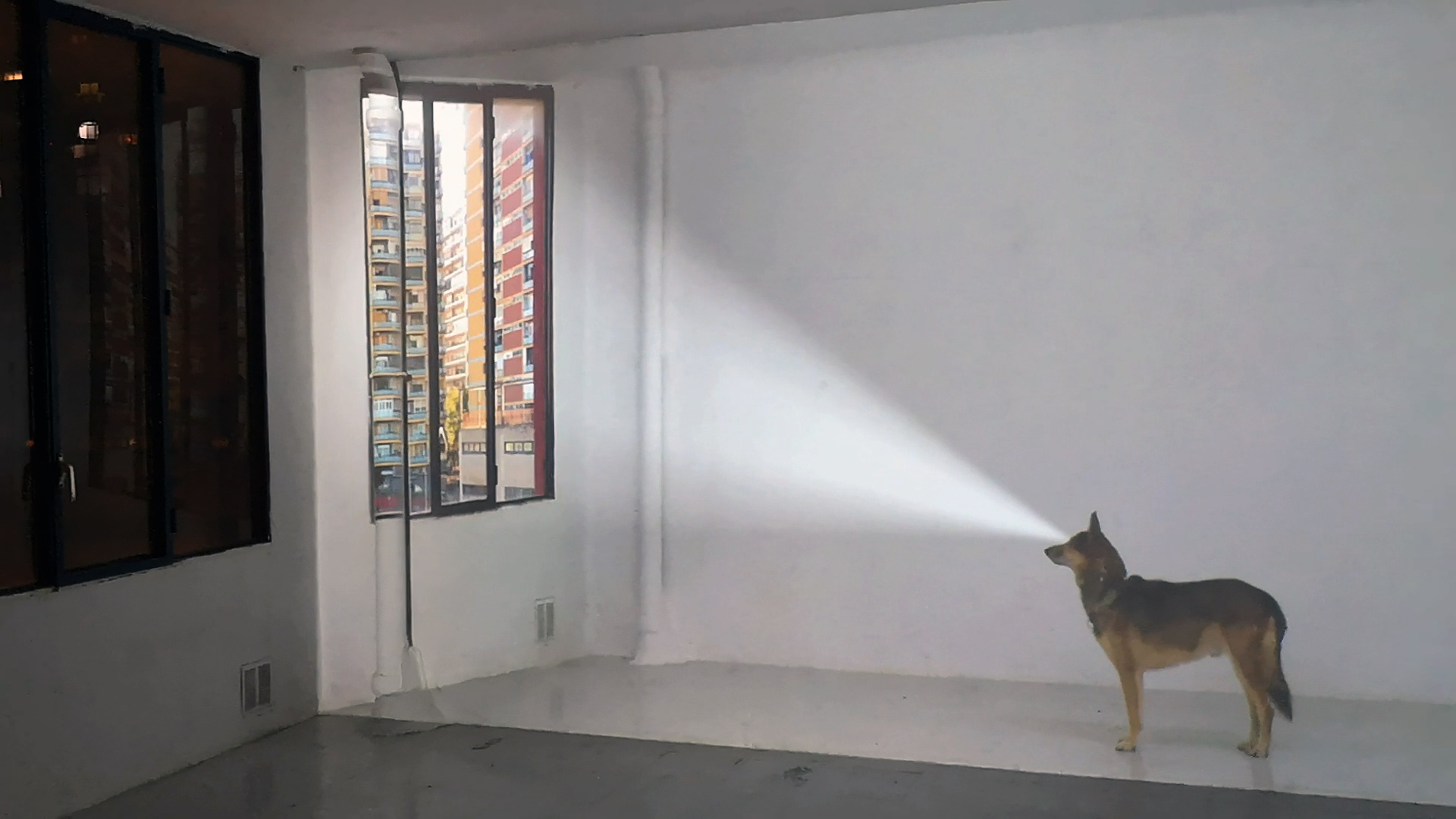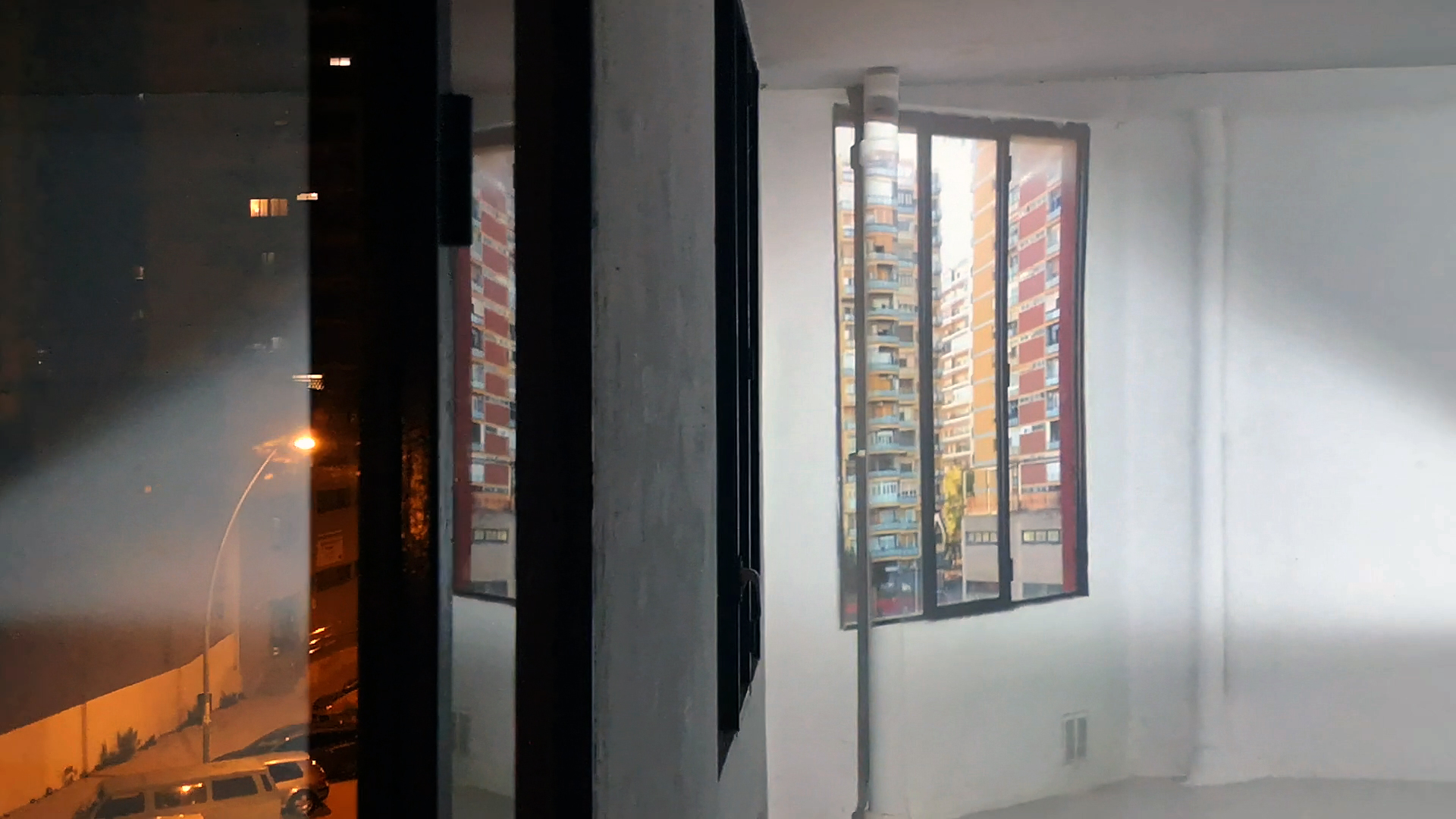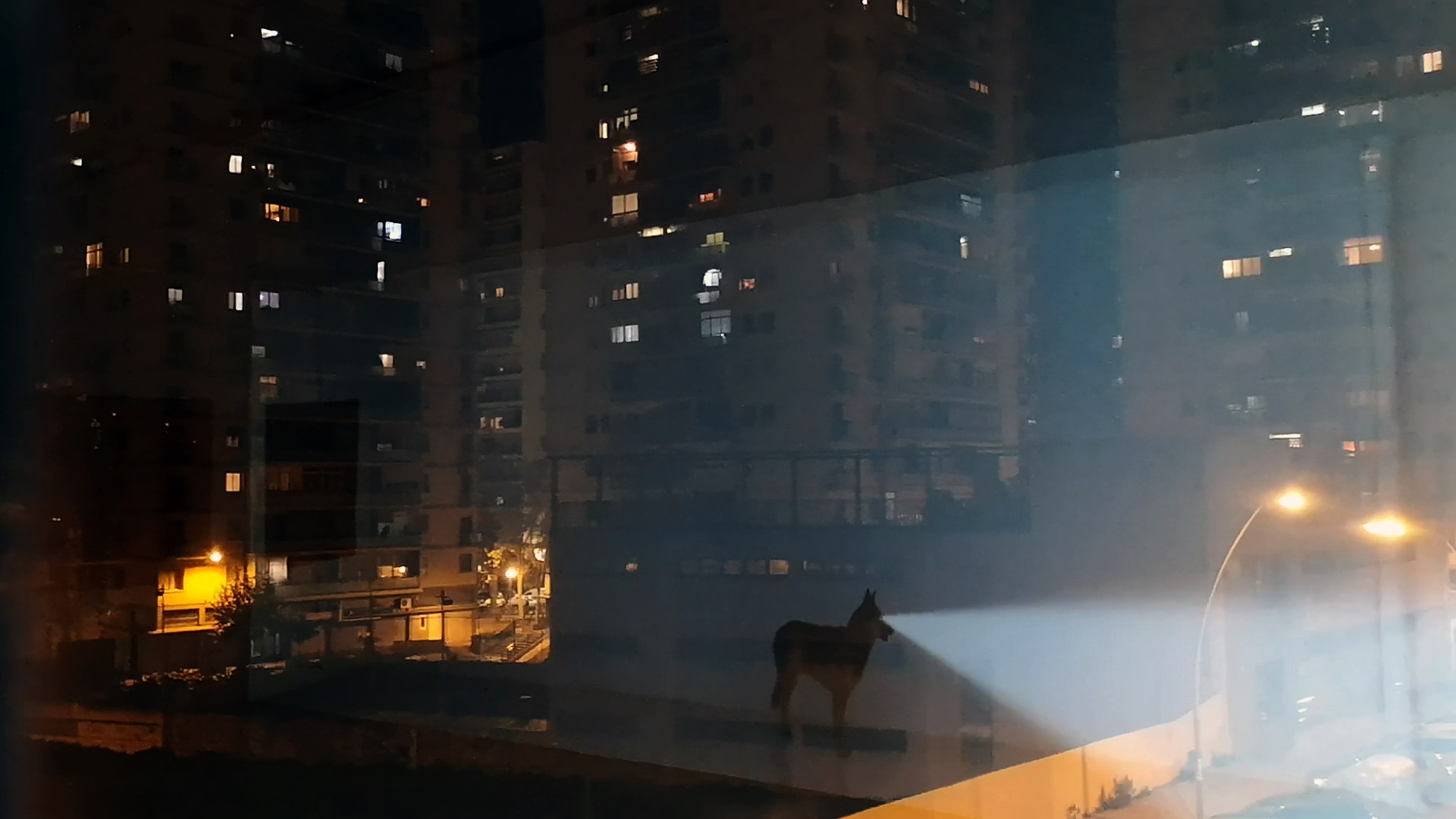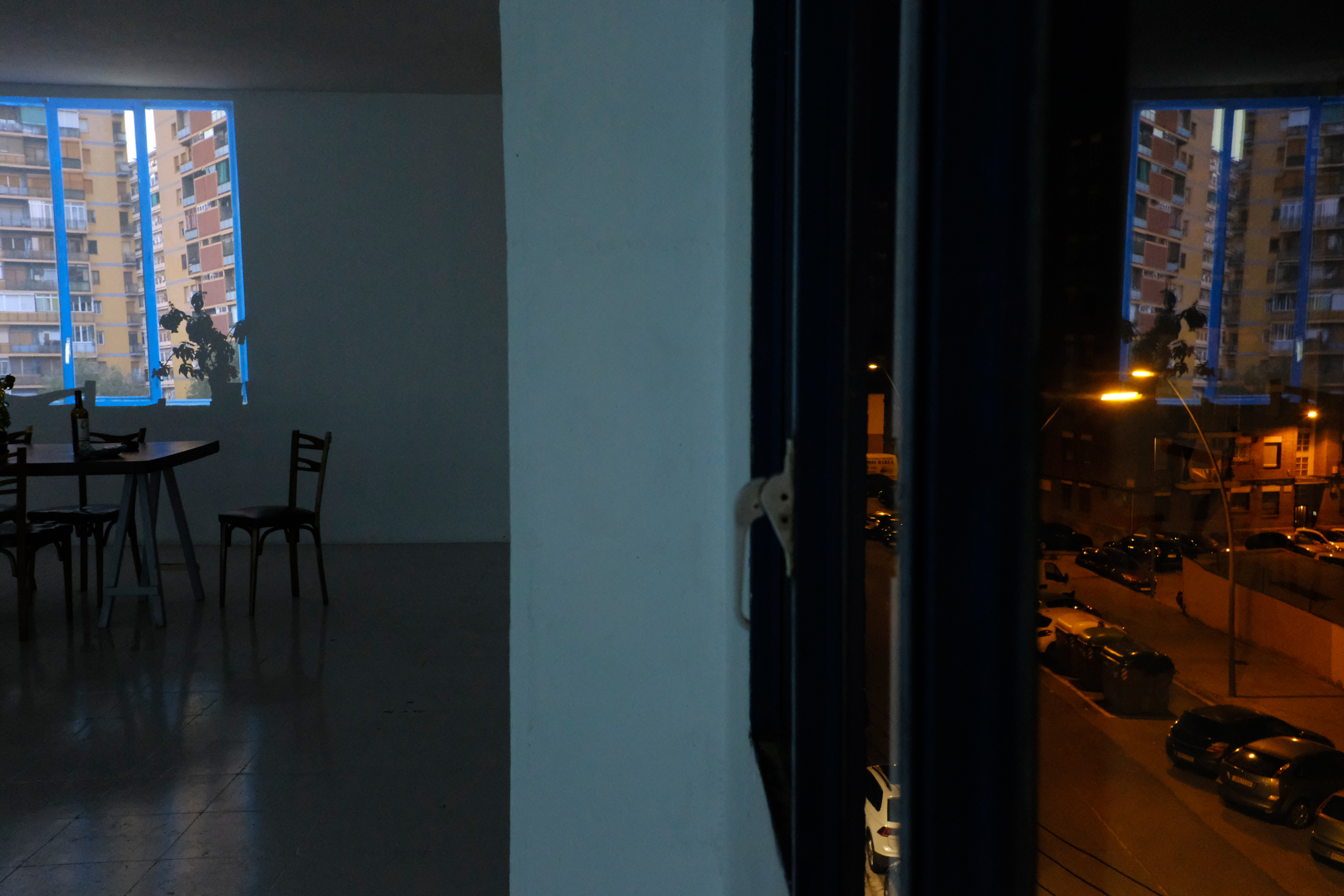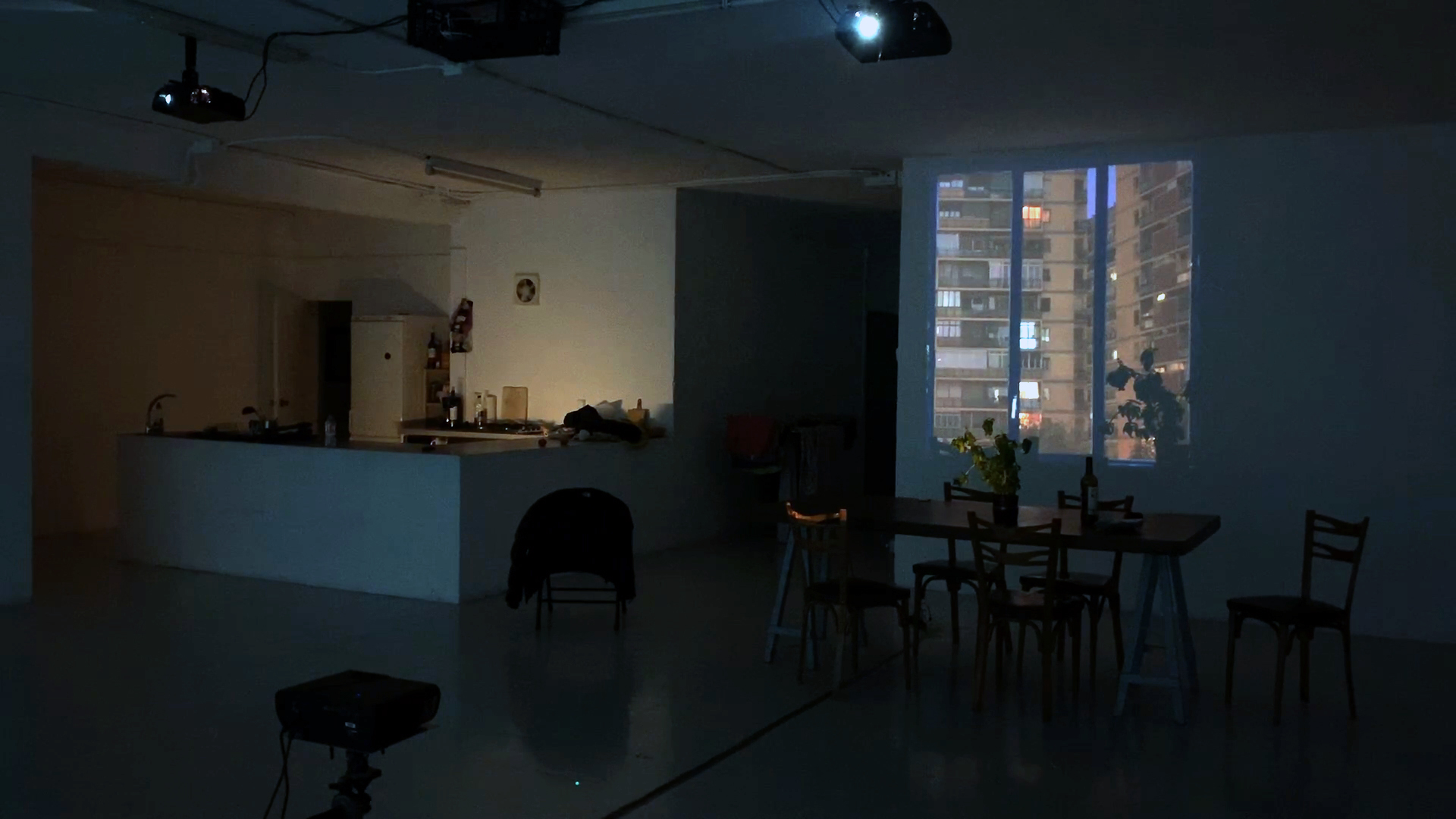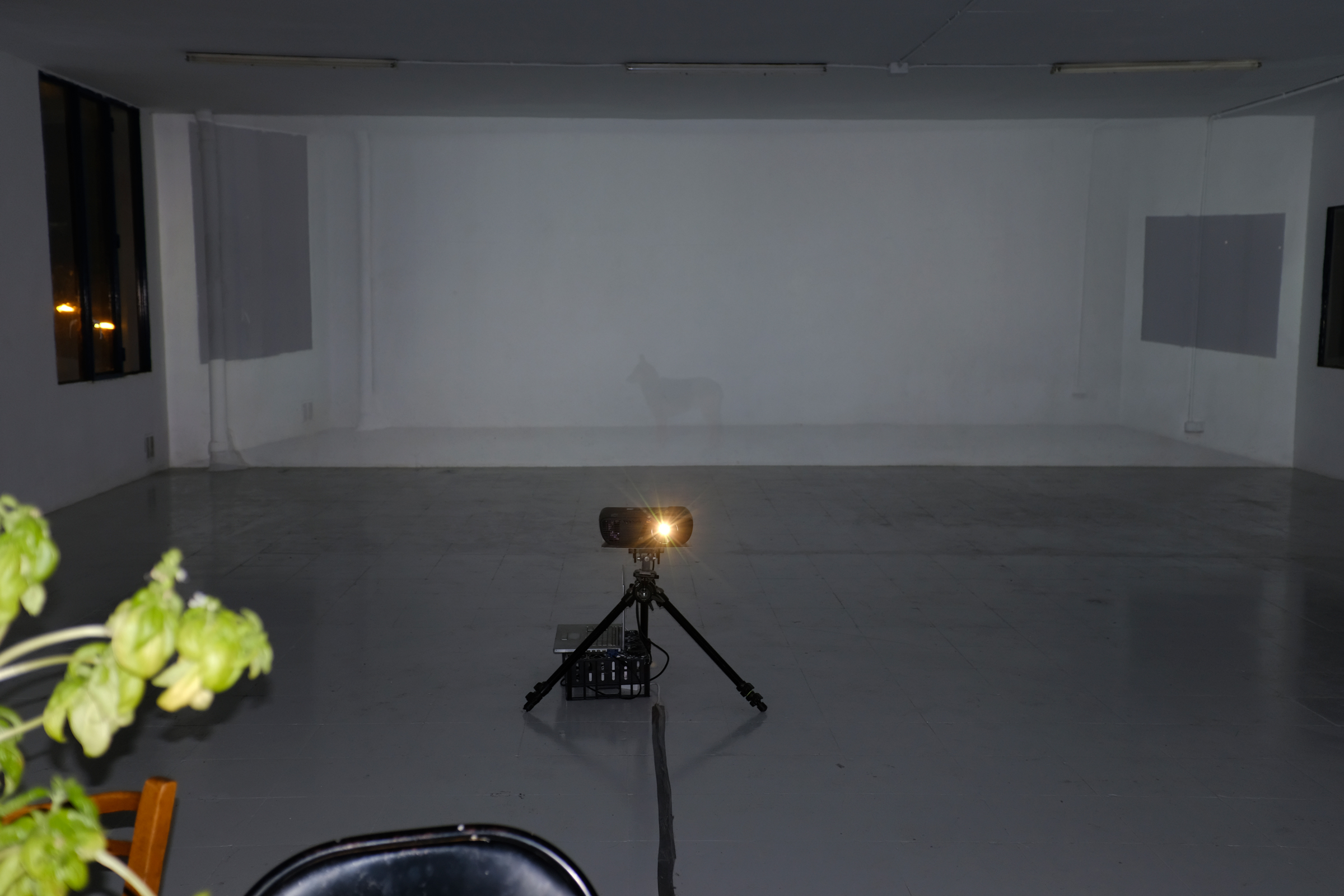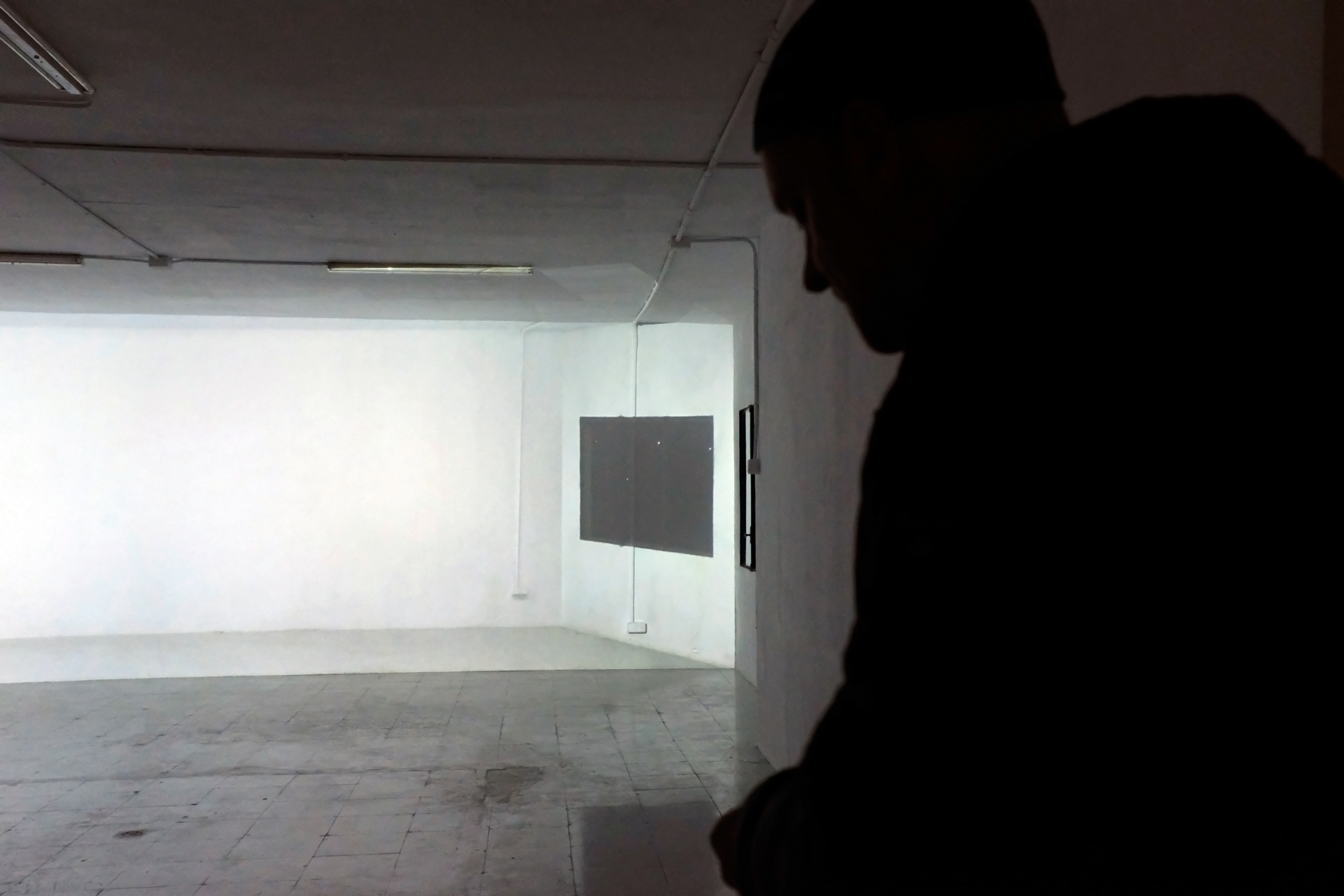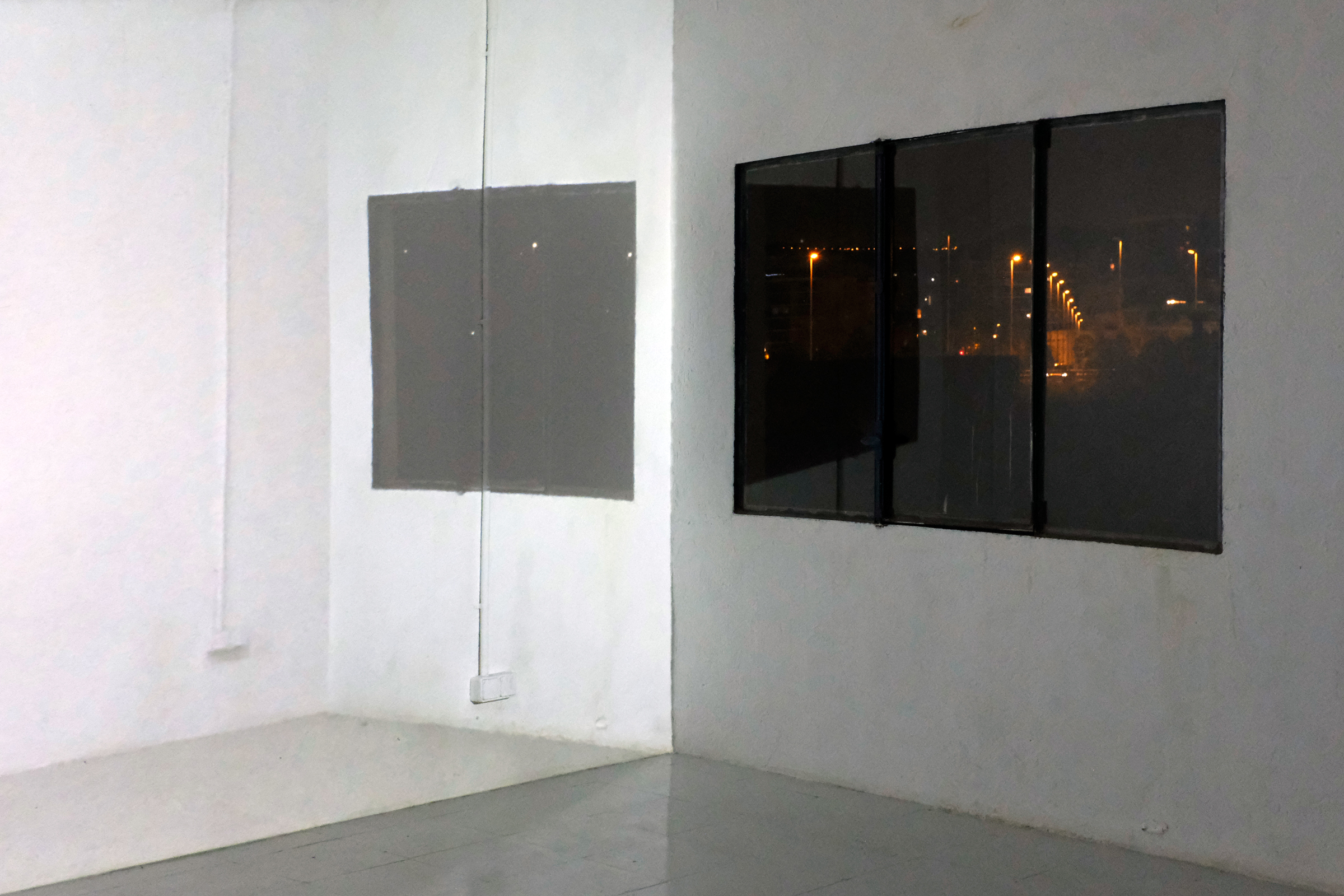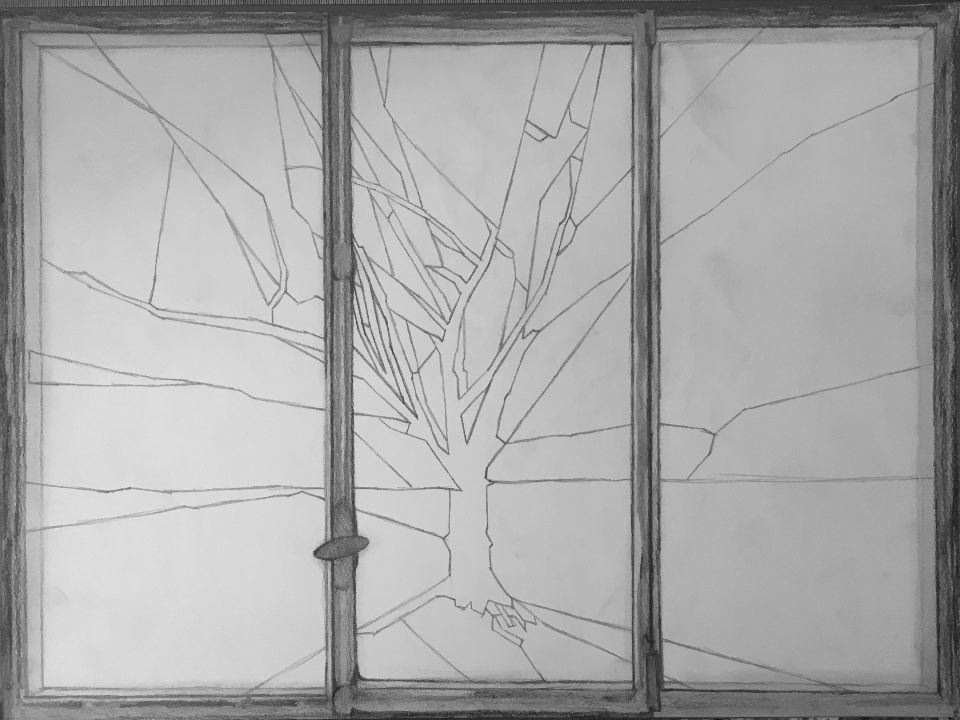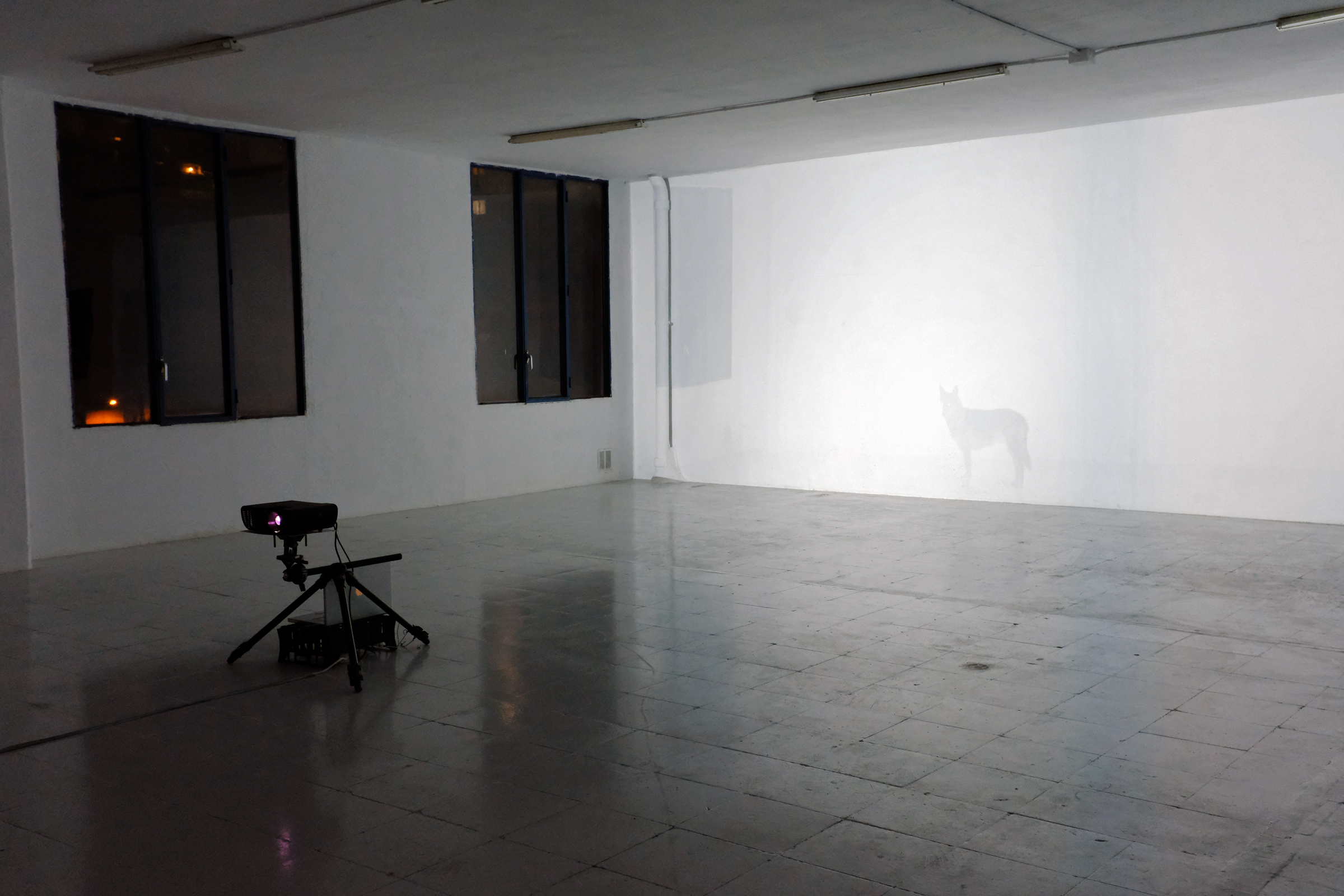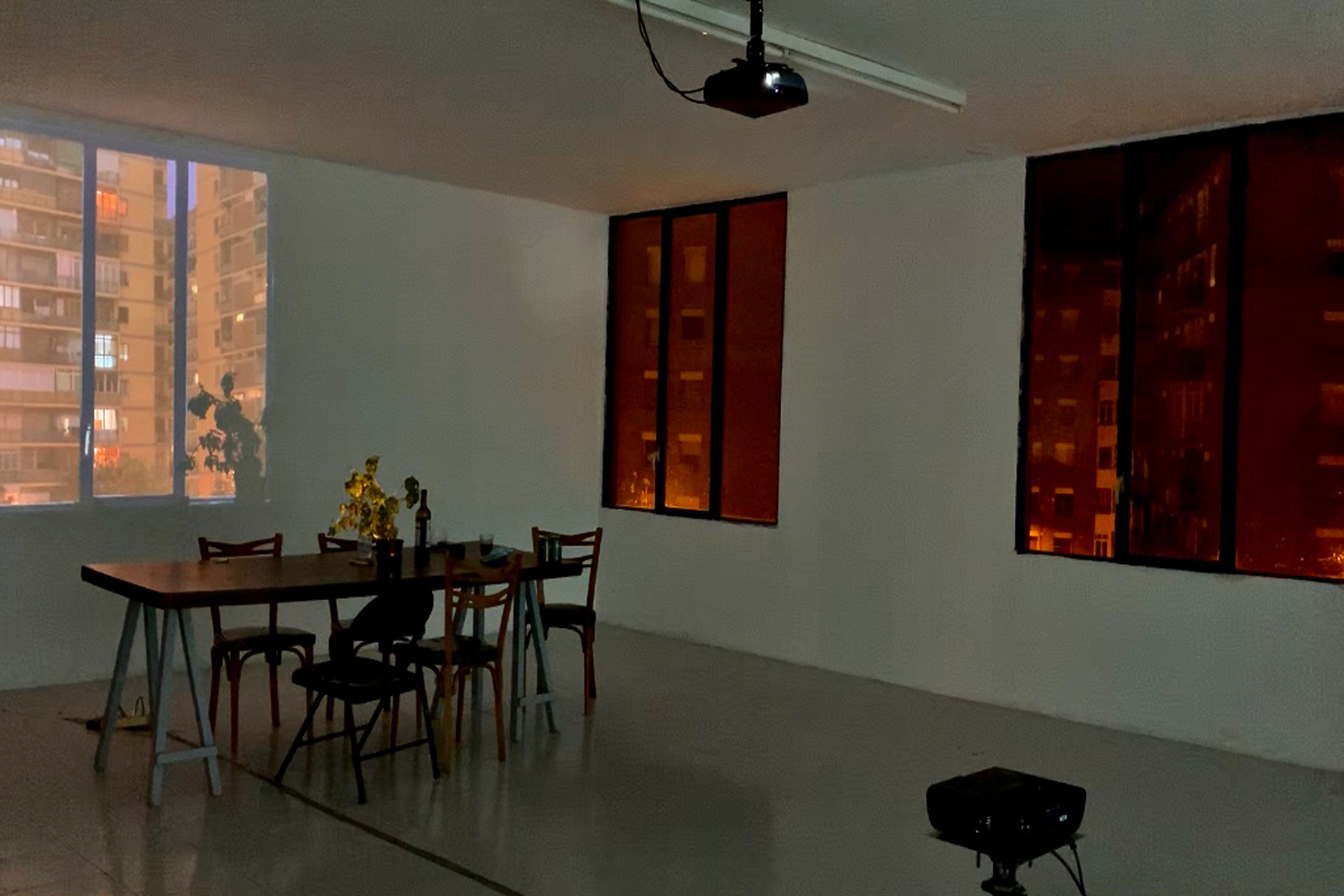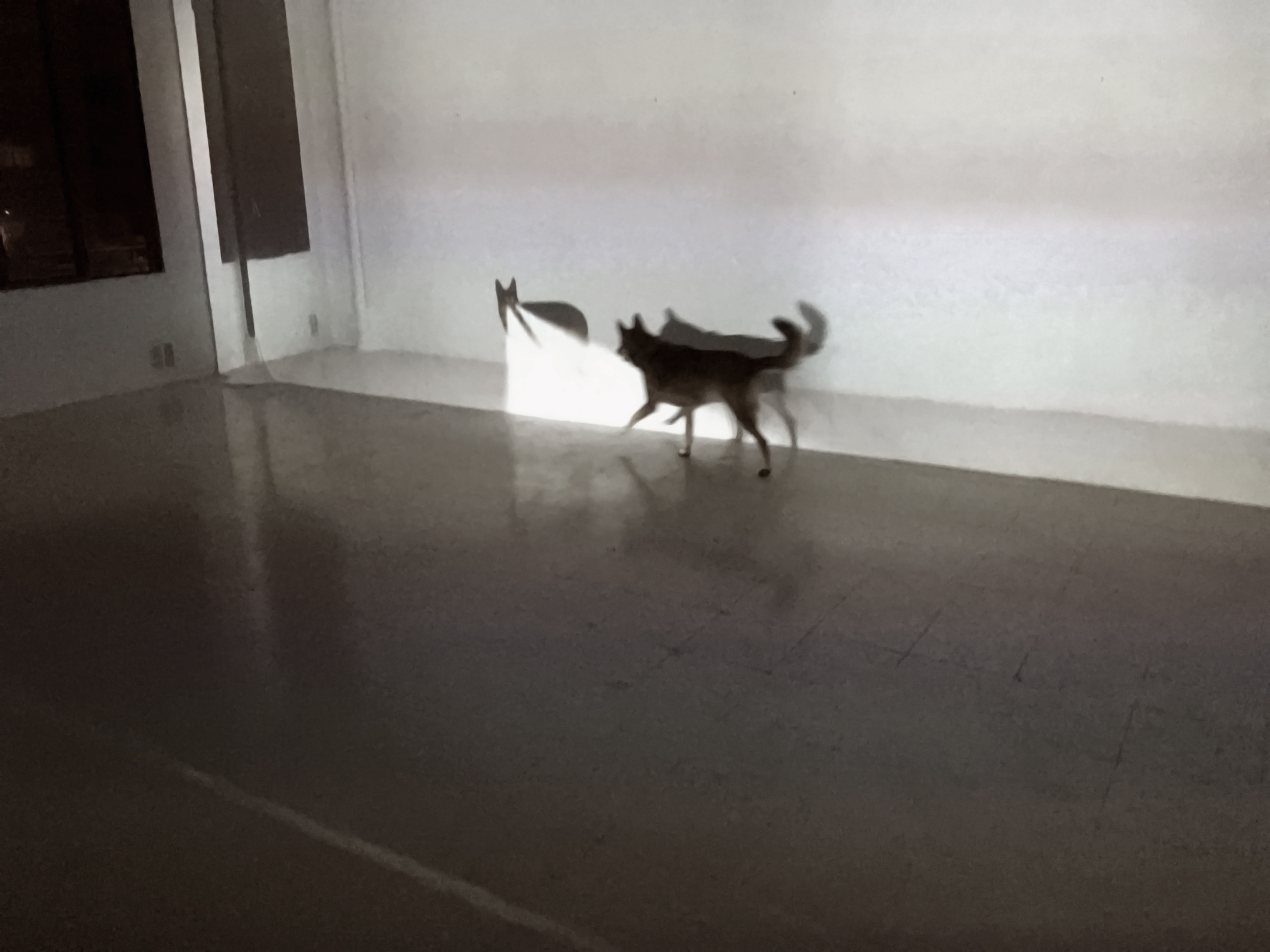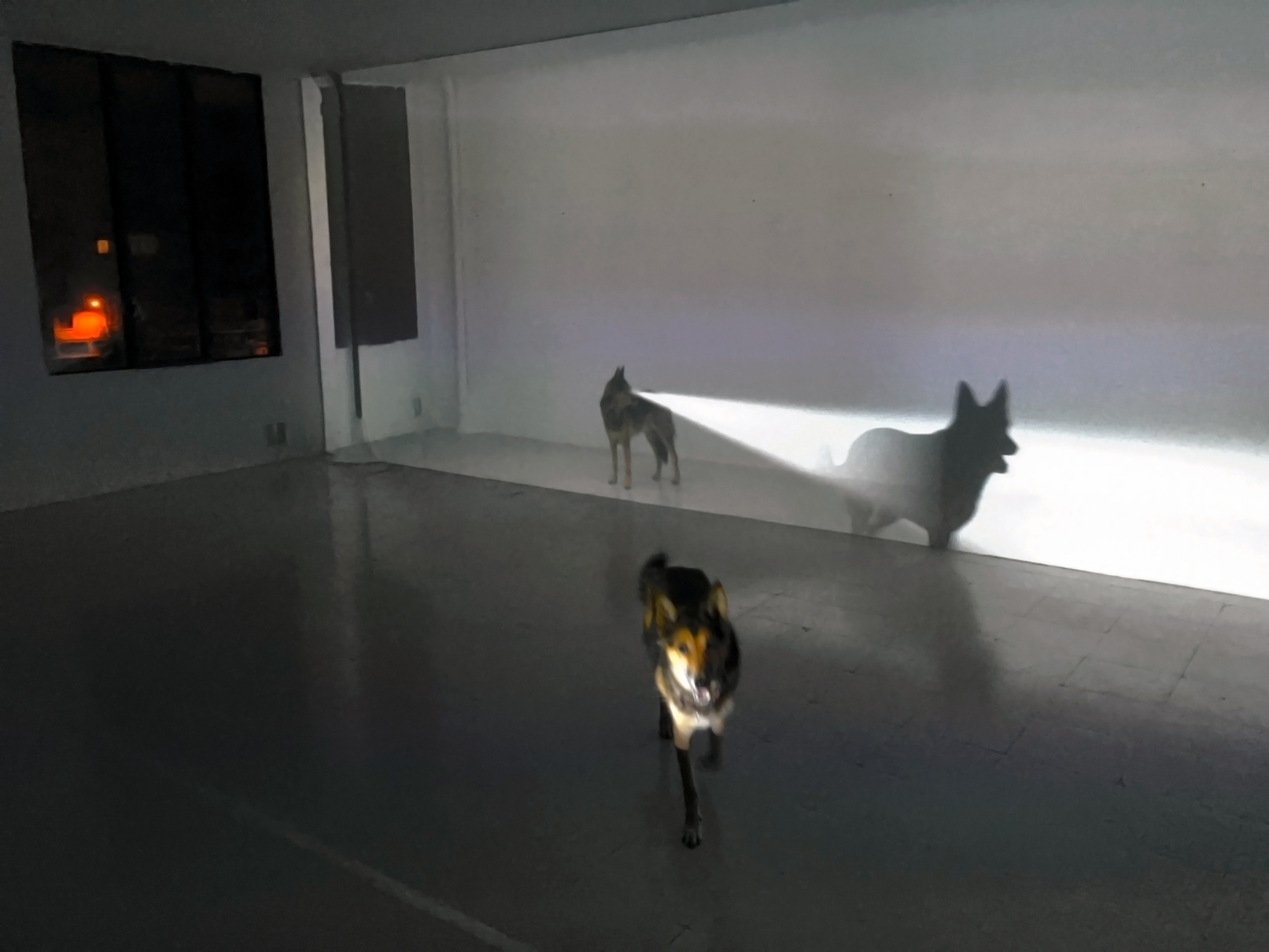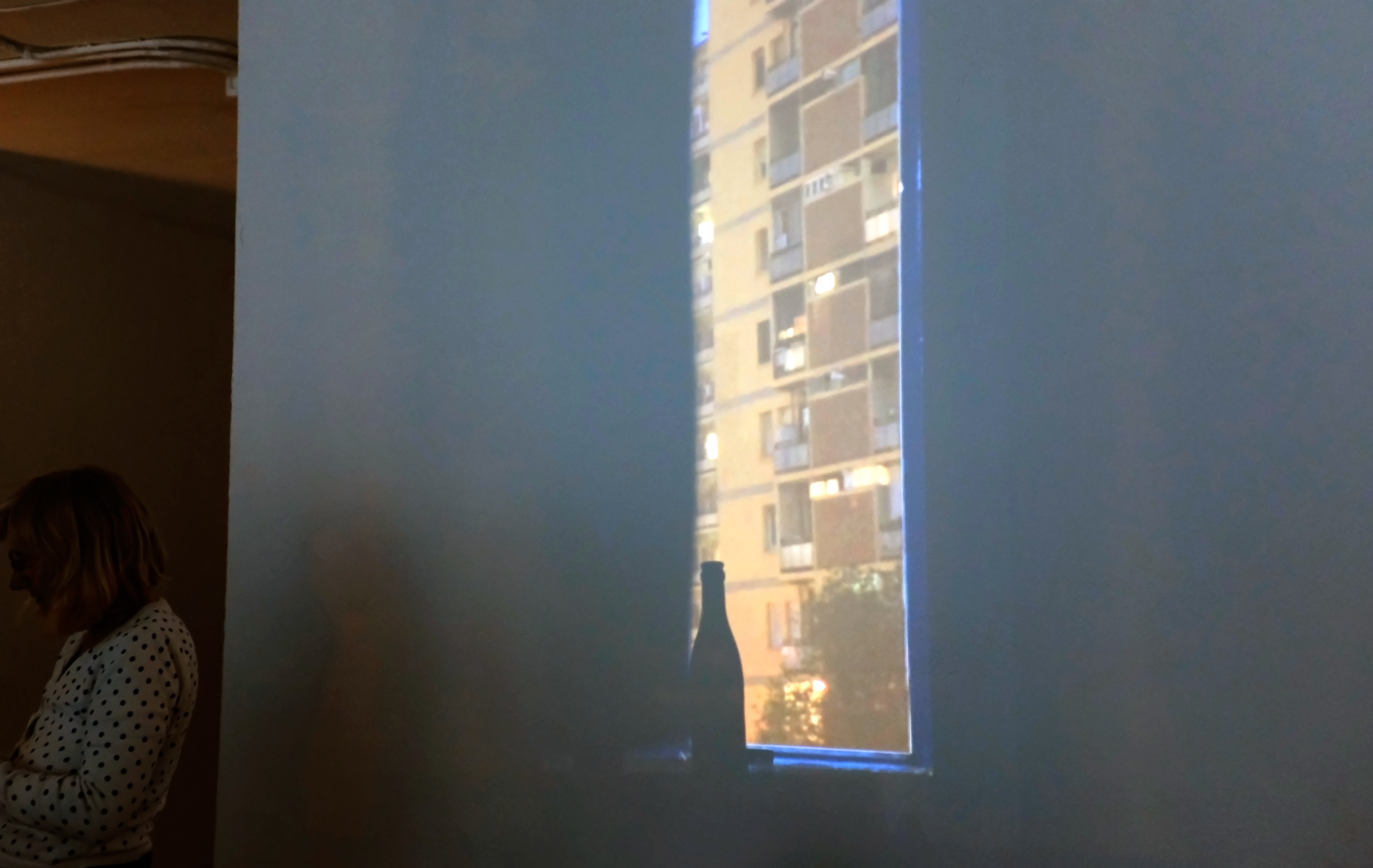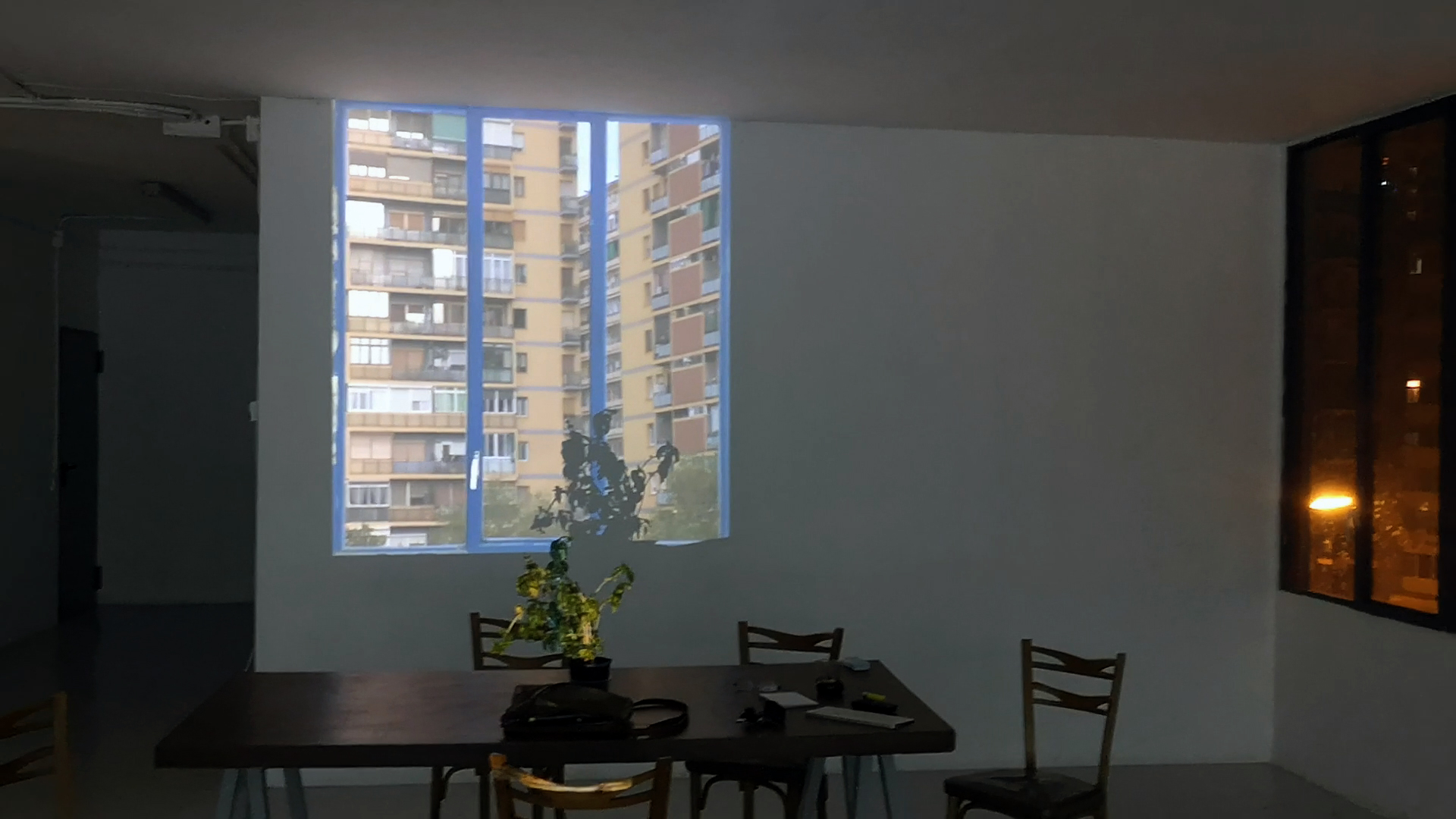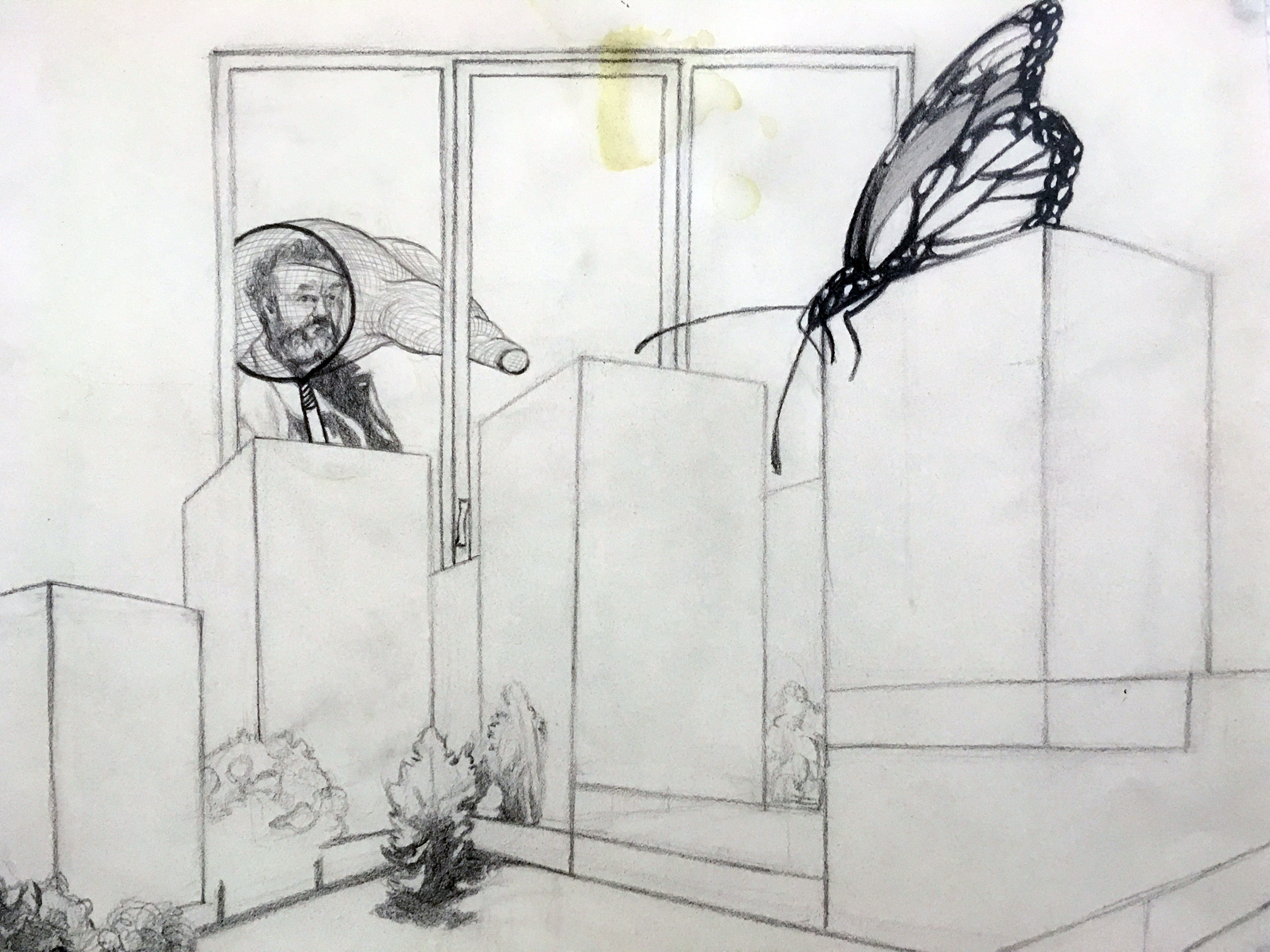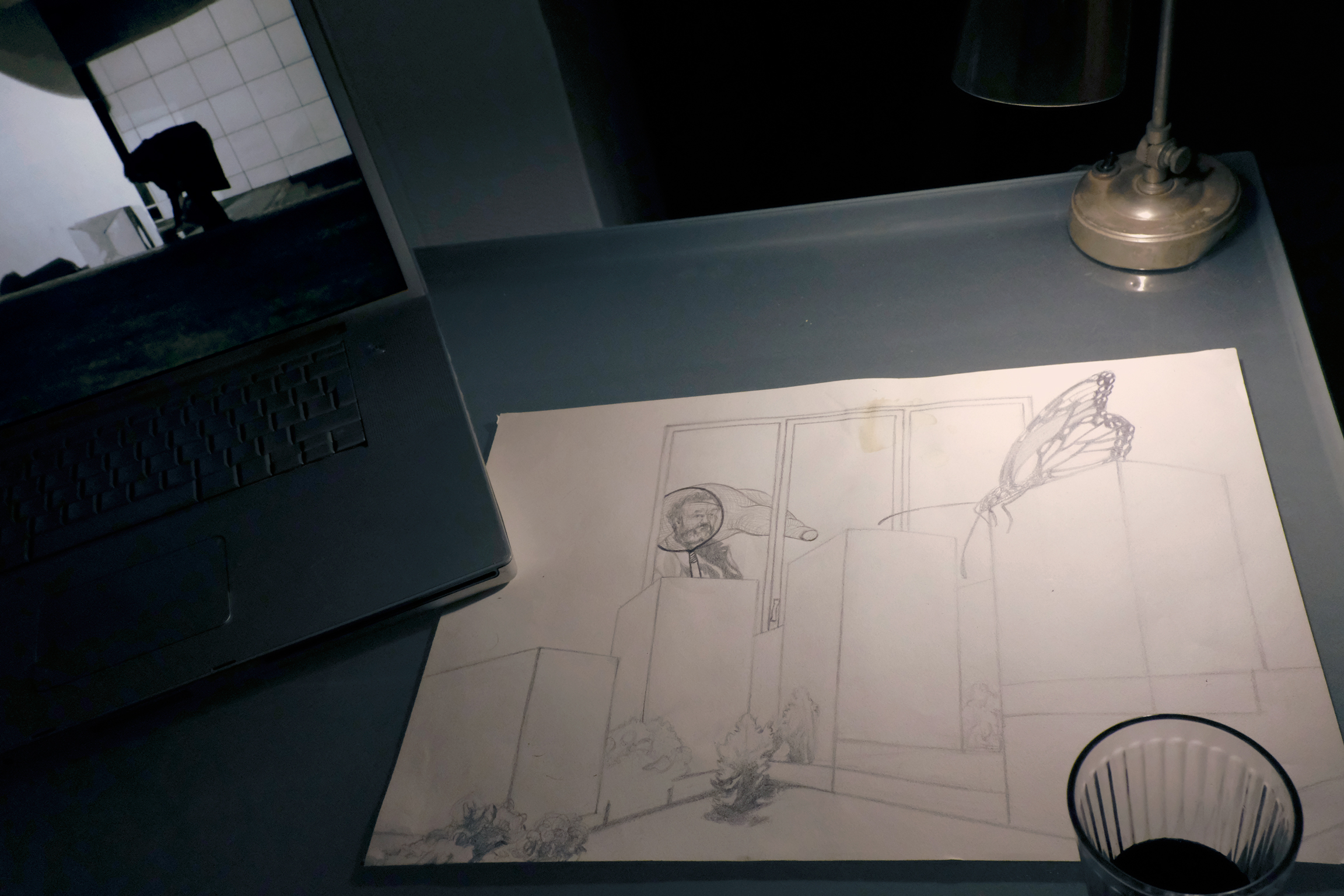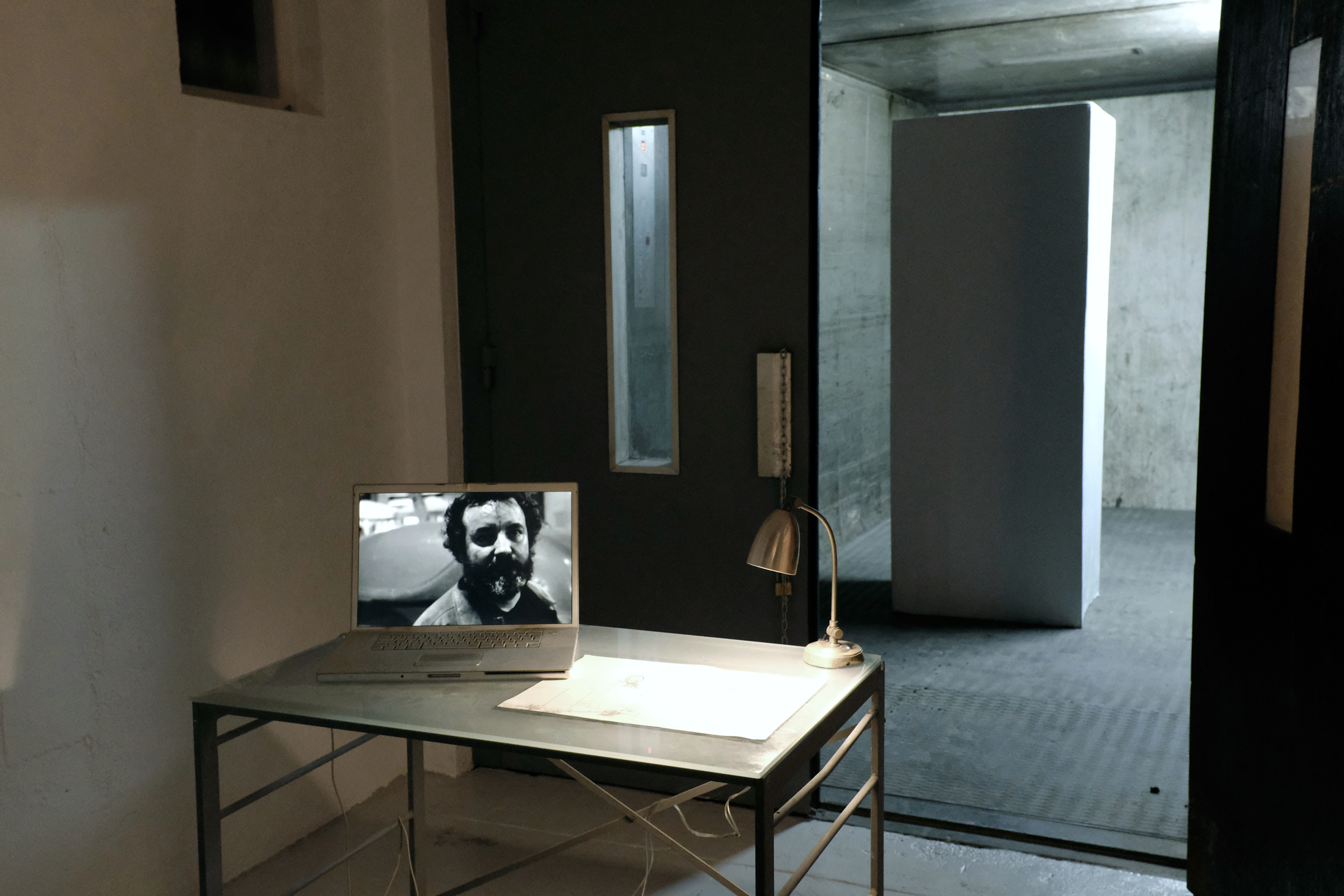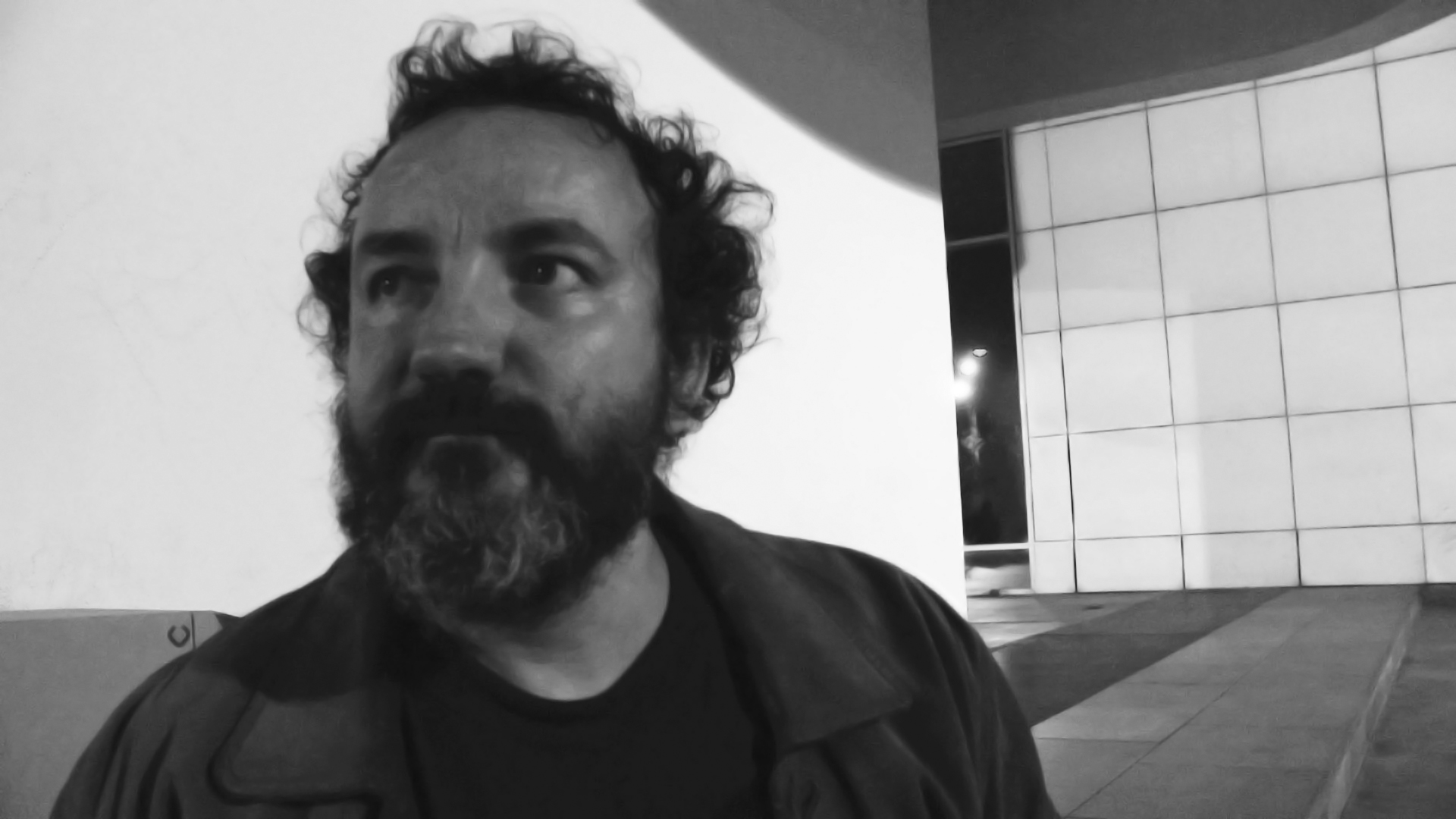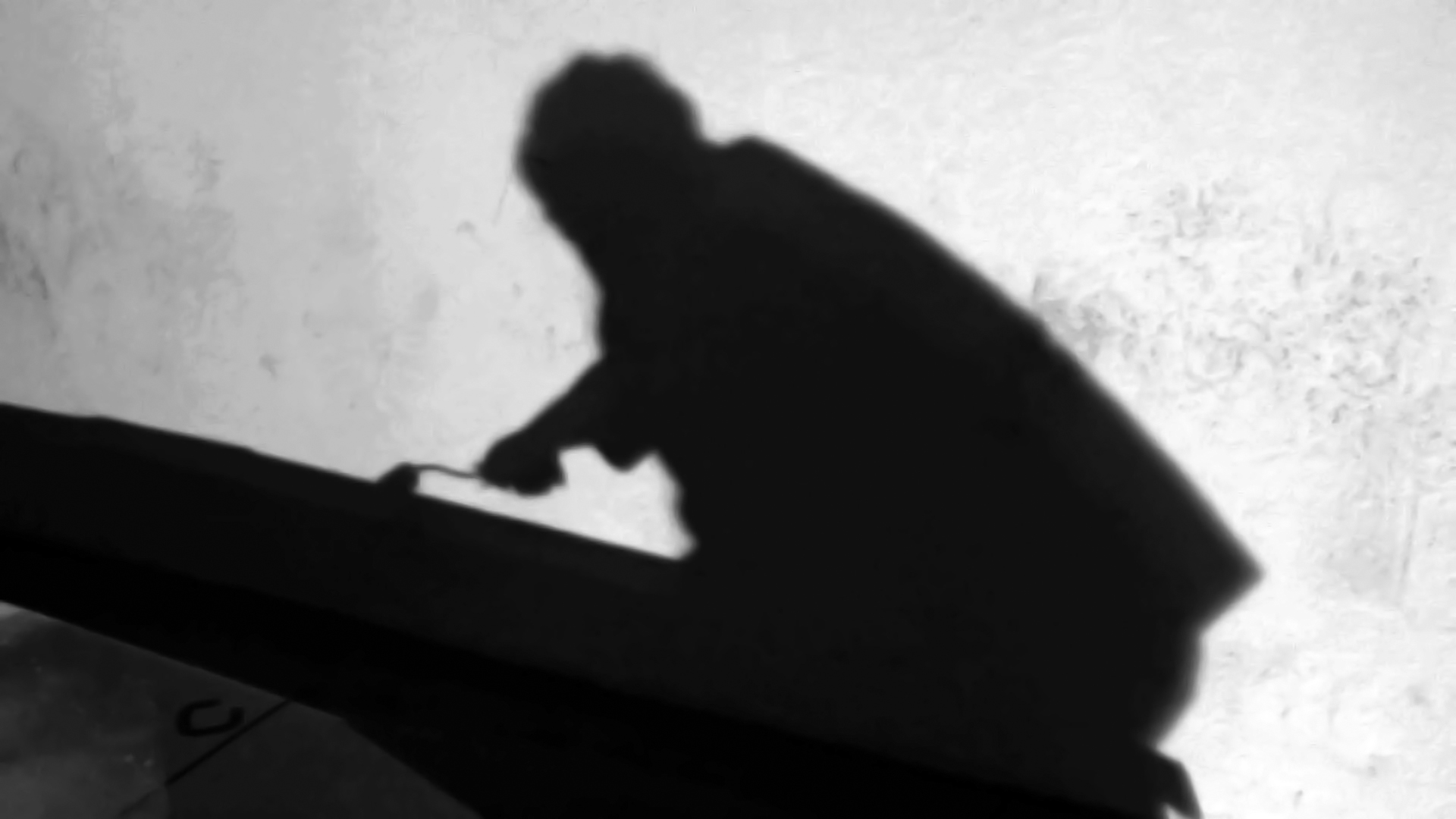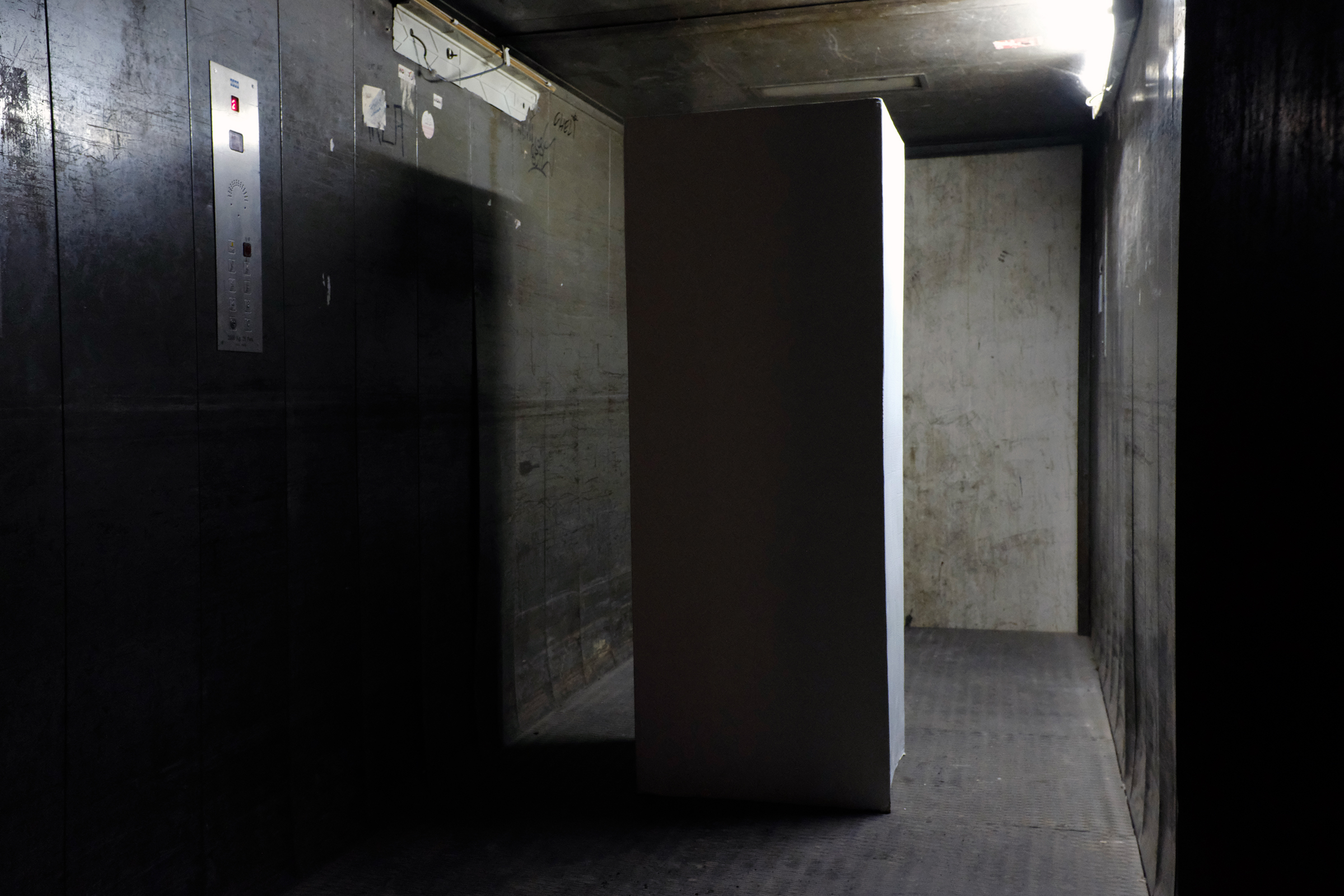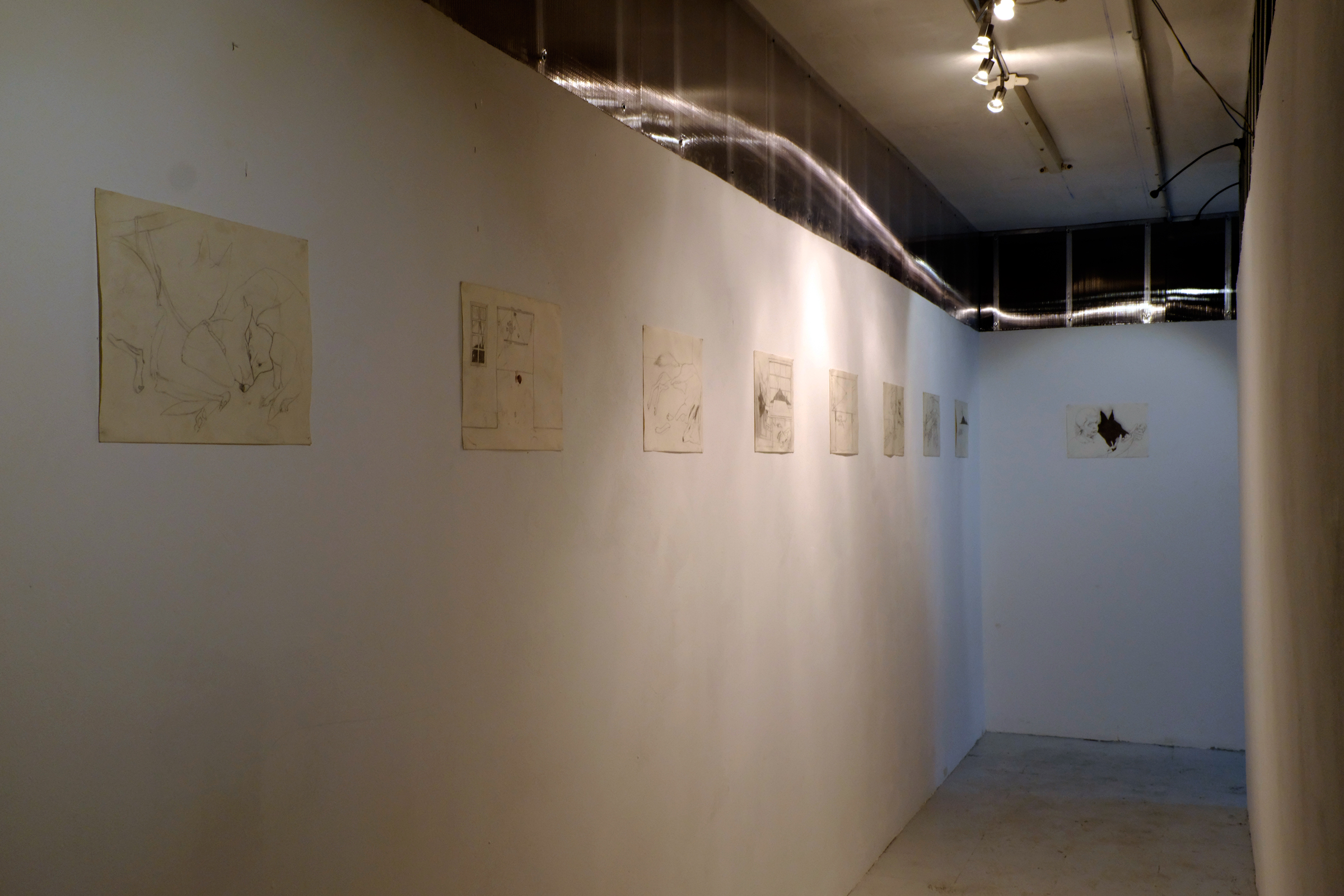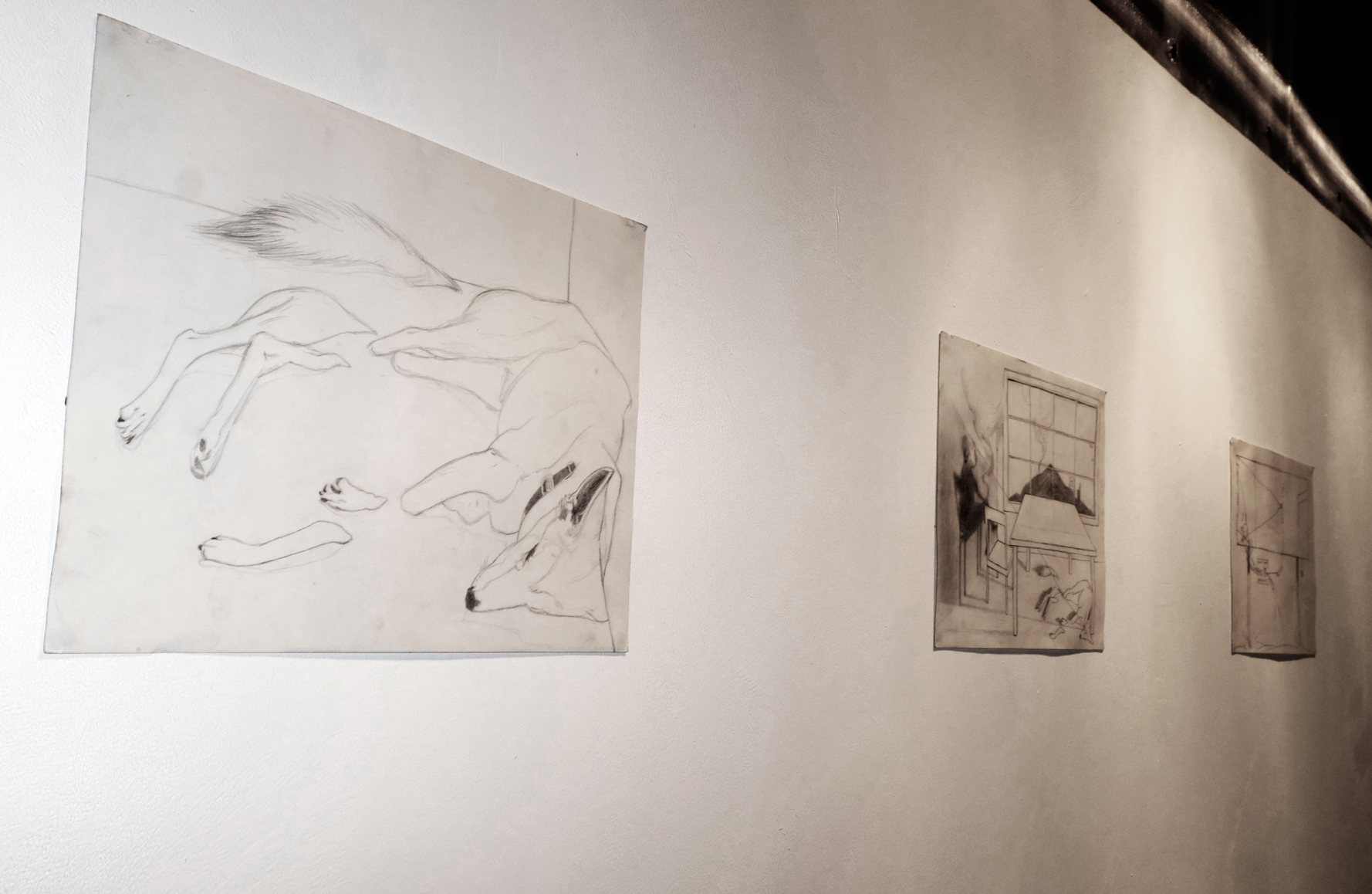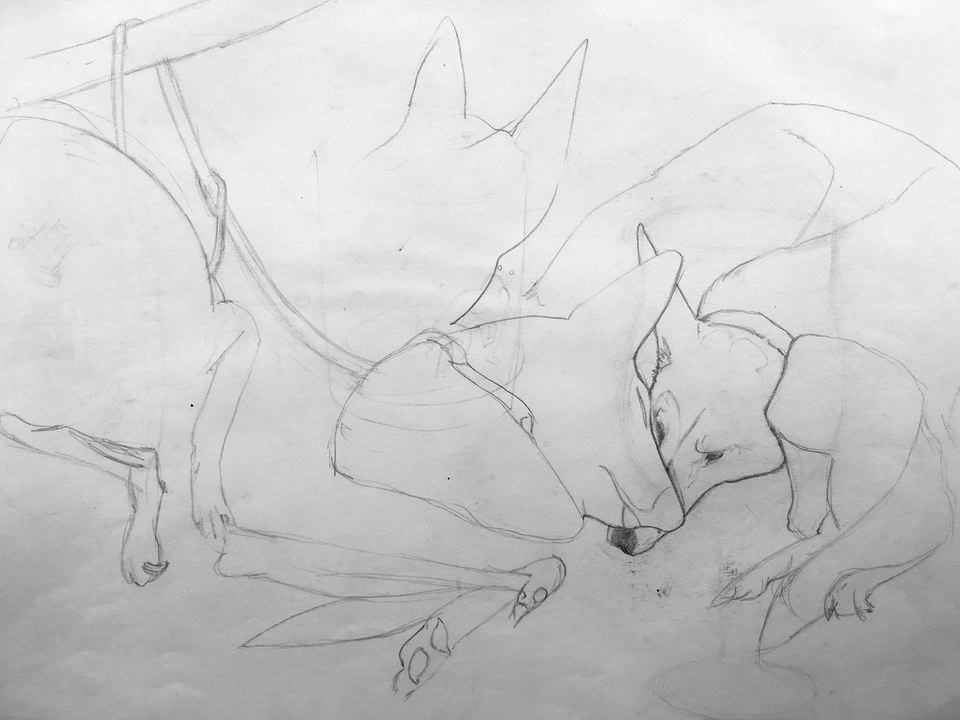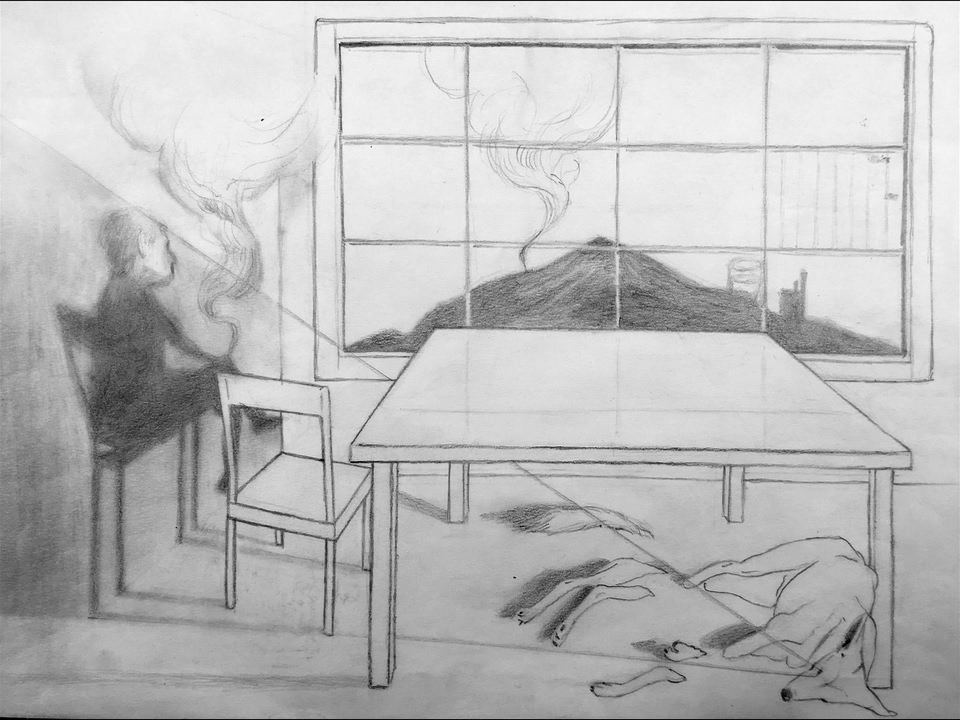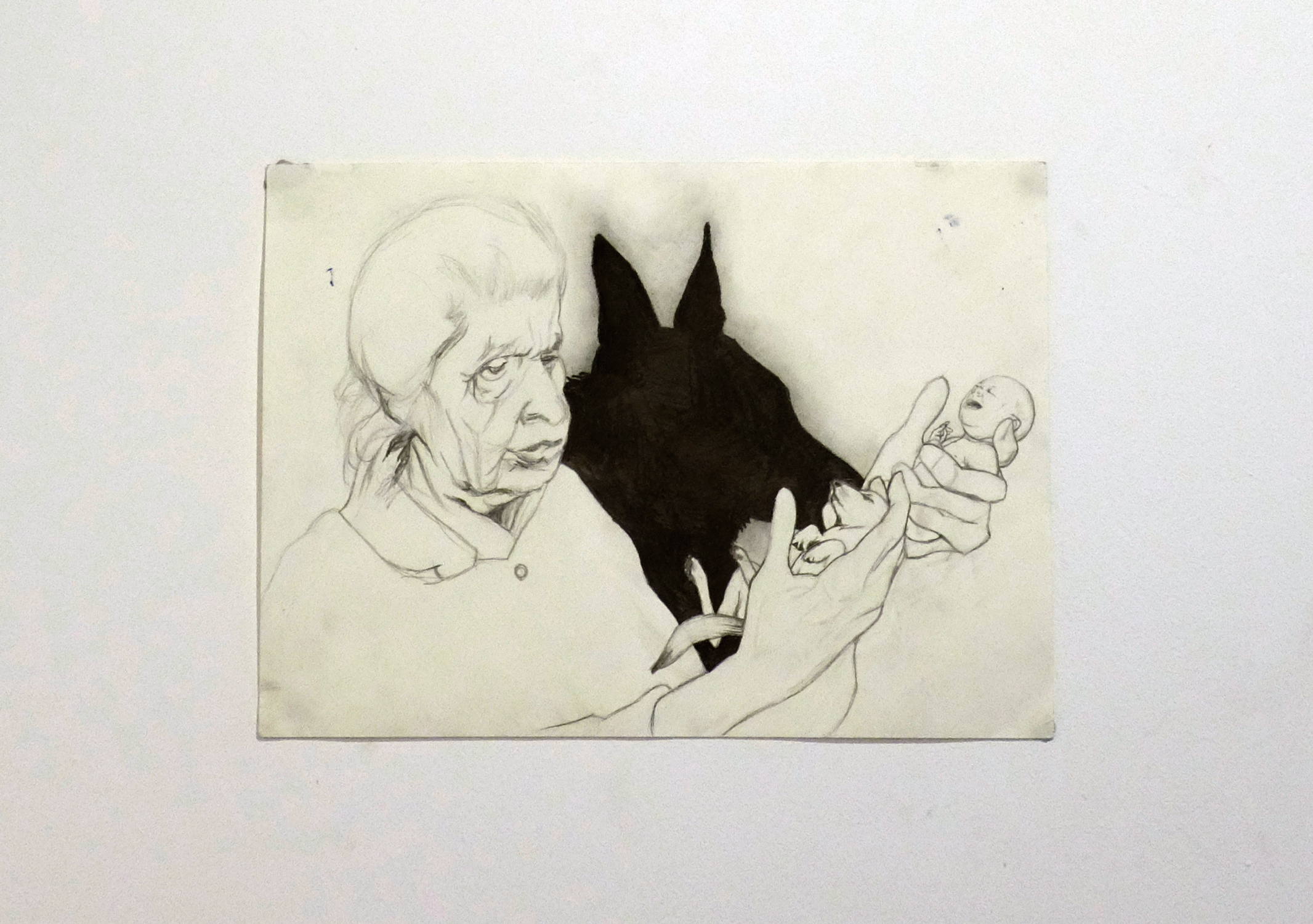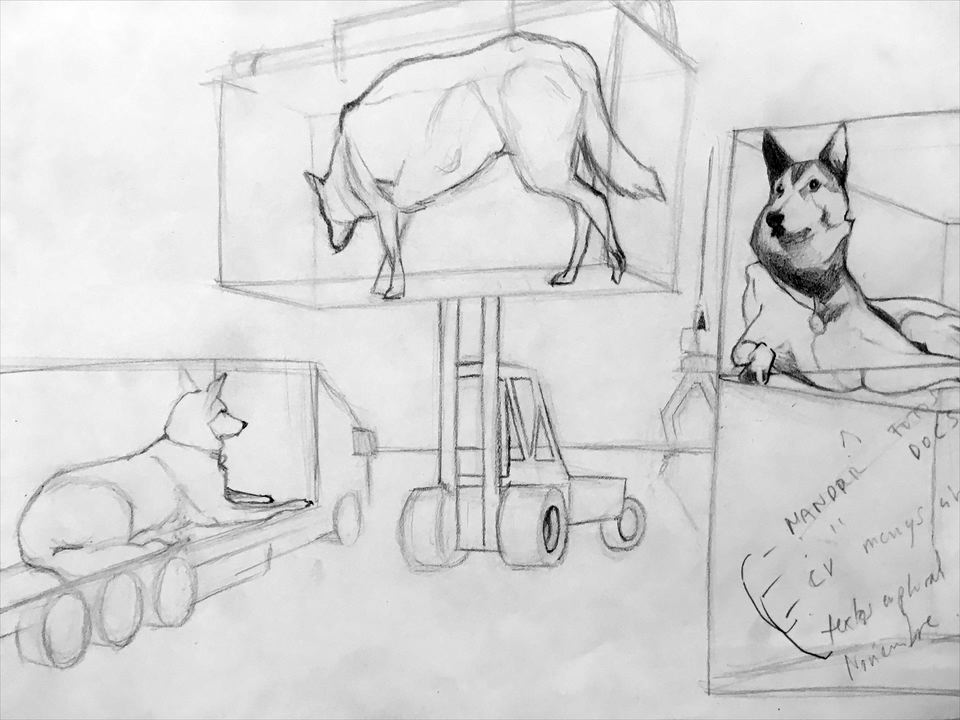 A set of three installations expressly created for Halfhouse, an independent art space in Barcelona, directed by the artists Alberto Peral and Sinéad Spelman.
The first installation consists of a video projection that displays a prolongation of the exhibition space using the force perspective of the trompe l'oeil technique whereby the phantasmagorical presence of the artist's dog comes to inhabit the space. This dog, who appears and disappears at regular intervals, has the gift of projecting light through his gaze with such intensity that he is capable of inducing the sunrise when looking through the windows.
The second installation uses the service lift in the centre of the space to present a monolithic structure made of the cardboard packaging of a fridge painted white and placed vertically.  In the office space where the merchandise from the service lift is delivered there is a table and on top of it a computer projecting a video of a homeless guy who after finding a bucket of white paint in the rubbish uses it to paint the cardboard box he lives in and then introduces himself inside to go to sleep. The fact that he performs this action right outside the white walls of the Museum of Contemporary Art of Barcelona creates a peculiar architectural symbiosis, a confronting metaphor that brings, via the service lift, the monolithic structure to the white cube of the exhibition space at Halfhouse.
The third installation uses the hallway and the last room of the exhibition space to show a hundred or so drawings where the protagonist is once more the artist's dog. These drawings can be seen as oneiric elaborations of the sleeping beggar, a figure that thus functions as a fictional self-portrait of the artist himself.  
An artist in the mirror of nihilism as a dangerous discursive solution in which the diogenic dog acquires a spectral distance.
Conjunto de tres instalaciones expresamente creadas para el espacio independiente Halfhouse en Barcelona, dirigido por los artistas Alberto Peral y Sinéad Spelman.
La primera de ellas consiste en una prolongación videoproyectada del espacio expositivo mediante la técnica del trampantojo, en cuya falsa perspectiva habita fantasmagóricamente el perro del artista. Este perro, que aparece y desaparece a intervalos, posee el don de proyectar luz con su mirada con tal intensidad que es capaz de hacer amanecer cuando mira por las ventanas.
La segunda utiliza el montacargas del centro para presentar un monolito hecho de un embalaje de nevera de cartón pintado de blanco y puesto en vertical. En la mesa de la oficina que recibe la mercancía hay un ordenador en cuya pantalla se ve un video que muestra un indigente que tras encontrar un bote de pintura en la basura, pinta de blanco la caja de cartón en la que vive y luego se introduce en ella para dormir. El hecho de que realice esta acción justo delante de las paredes blancas del Museo de Arte Contemporáneo de Barcelona, produce una peculiar simbiosis arquitectónica, cuya metáfora de confrontación traslada el monolito a través del montacargas al cubo blanco del espacio expositivo de Halfhouse.
La tercera utiliza el corredor y una última sala para mostrar un centenar de dibujos cuyo protagonista principal vuelve a ser el perro del artista, y que se pueden entender como las elaboraciones oníricas del mendigo durmiente, quien deviene así un autorretrato ficcional del mismo artista.
Un artista en el espejo del nihilismo como peligrosa solución discursiva en la que el perro diogénico adquiere una distancia espectral.

Shown at:

"The Projector Dog" · Halfhouse · Barcelona · 2019
2017 · 40 min